Learning a new language in the globalized world is accessible and valuable. You can learn any language with a bunch of resources available online. One such resource is the best Chrome extensions for language learning. With Chrome extensions, you can improve the pronunciation, grammar, and vocabulary of the language you are learning.
How To Choose The Best Chrome Extensions For Language Learning?
Selecting the extensions that align with your learning goals can be tricky. The Chrome extensions for language learning have:
Presence of a well-defined interface
Support of multiple languages
Have language practice tools and exercises.
Customization options like difficulty level selection.
Active community support
Best Chrome Extensions For Language Learning
Let's go…
#1 Readlang Web Reader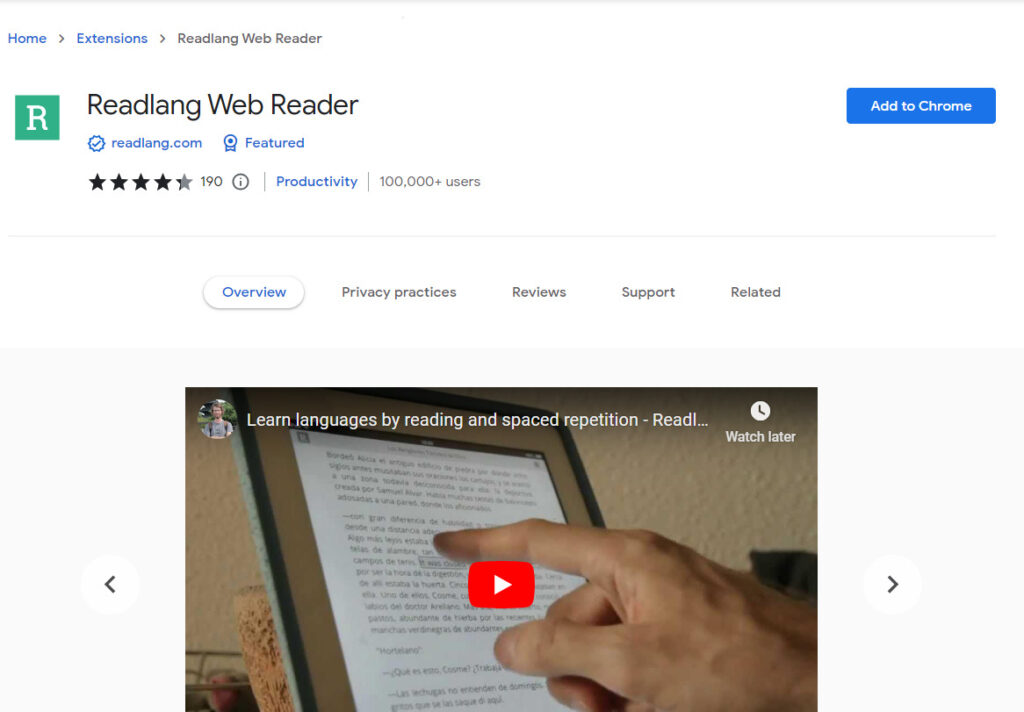 What Is Readlang Web Reader?
Readlang Web Reader is one of the fantastic tools for language learners. The immersive reading experience allows you to read web pages according to your target language without interruptions.
Instant translations and vocabulary assistance in the Chrome extension help in quickly learning a new language.
Features:
Create flashcards for easy remembering
Word highlighting and personalized phrasebooks
Improves vocabulary and comprehension
Enhances reading proficiency
Automatic translations in the target language
#2 Google Dictionary (by Google)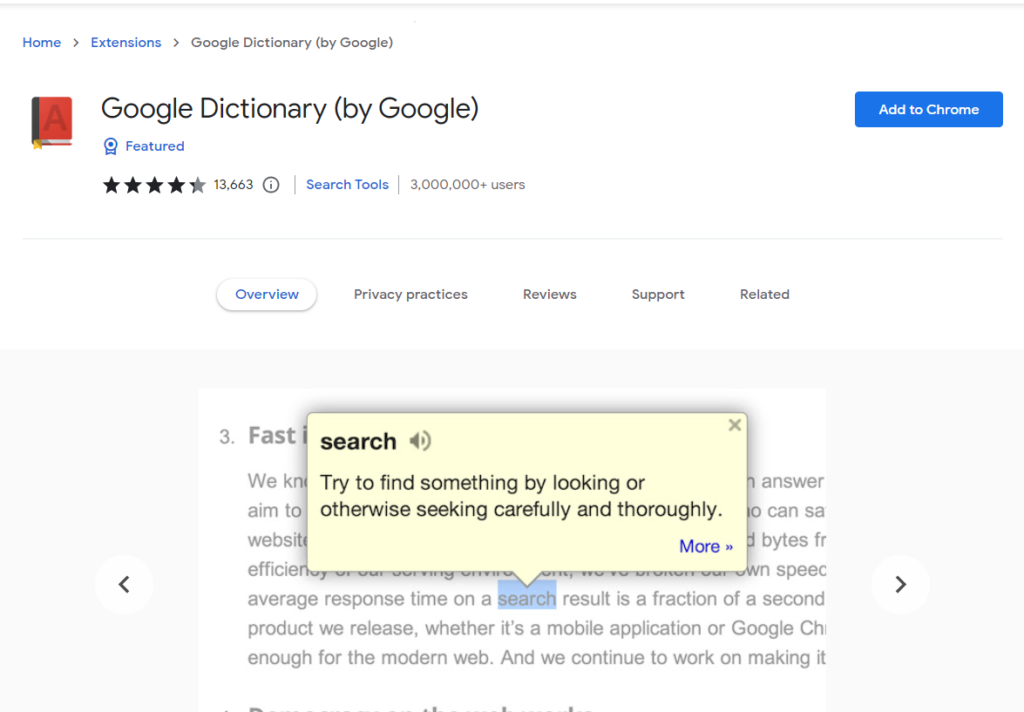 What Is Google Dictionary (By Google)?
Google Dictionary, developed by Google, is one of the most powerful Chrome extension tools for avid readers. It allows you to quickly view the definition of a word by double-clicking on it.
The user-friendly and clean interface allows readers to experience a seamless learning experience. You can create a personalized word list for quick reference.
Features:
Users can star important words
Supports audio pronunciation
Convenient, reliable, and effective
Accurate word definitions
Enhances vocabulary while browsing
#3 Google Input Tools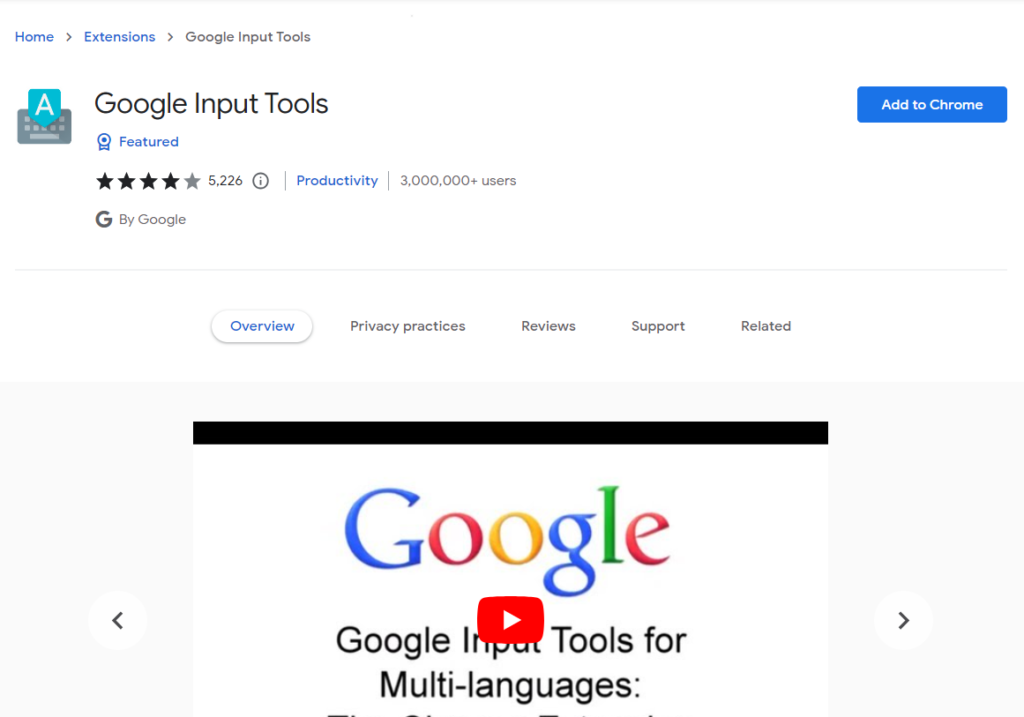 What Are Google Input Tools?
Multilingual users love Google input tools. It allows you to write in your target language. Thus, if you are practicing writing in a new language, choose the Google input tools Chrome extension.
It is an ideal Chrome extension for users who write in non-latin scripts and languages.
Features:
Easy switching between keyboards and layouts.
Multiple input methods
Highly versatile with numerous language support
Compatible with several websites and writing platforms
Supports on-screen keyboards
#4 Rememberry – Translate And Memorize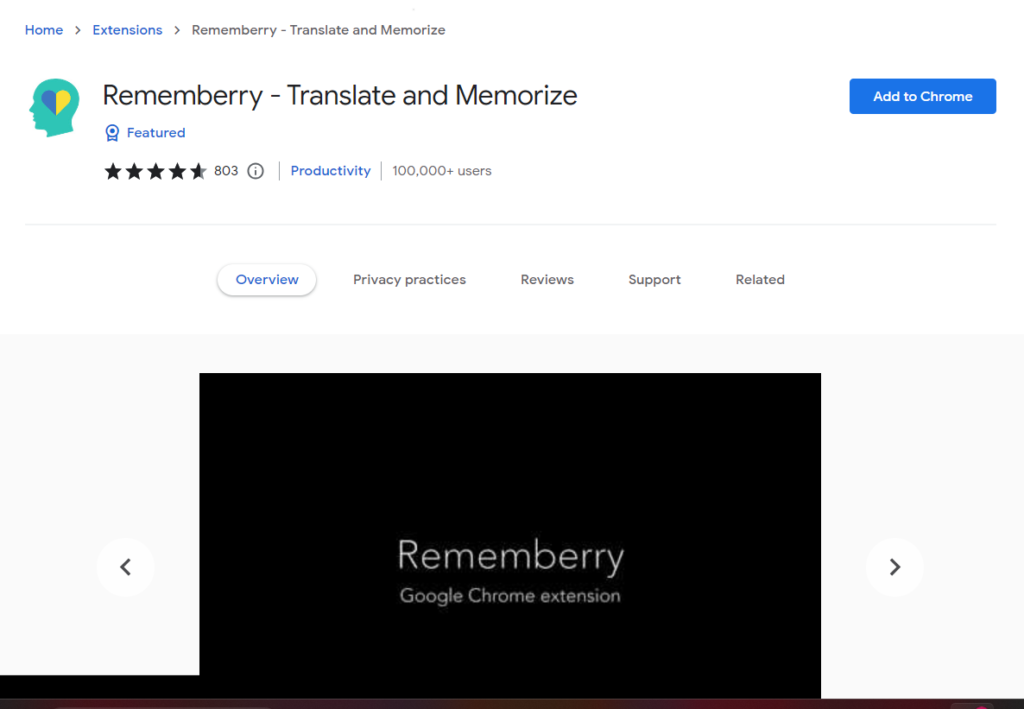 What Is Rememberry – Translate And Memorize?
With Rememberry, language learners can enhance their memorization power. It also helps in enhancing vocabulary by providing quick translations of complex words.
It utilizes the scientific research of human memory and how the human brain works. Thus, it is one of the best Chrome extensions for language learners.
Features:
Translates texts through selection, configurable hotkeys, and context menu
Personal flashcards library
Spaced repetition for effective memorization
Supports more than 100 languages
Built-in reminders to continue learning
#5 Language reactor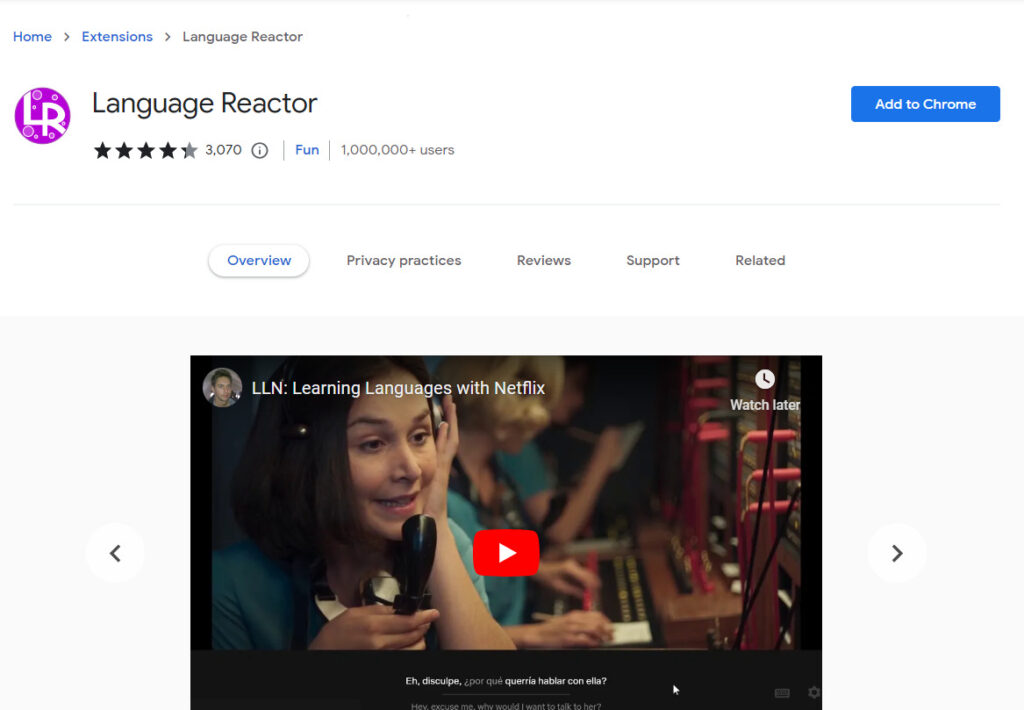 What is Language Reactor?
Language Reactor Chrome extension is a fun and interactive way to learn a new language. You can learn, practice and improve languages by watching your favorite series and films.
Language reactor makes you learn languages through native material. Thus, your pronunciation and vocabulary improve over time in an effective and fun way.
Features:
An interesting, enjoyable, and fun way to learn
Watch your favorite series and films on Netflix while learning
Compatible with youtube videos
Can translate books and websites
Provides video playback controls for precise learning
#6 Toucan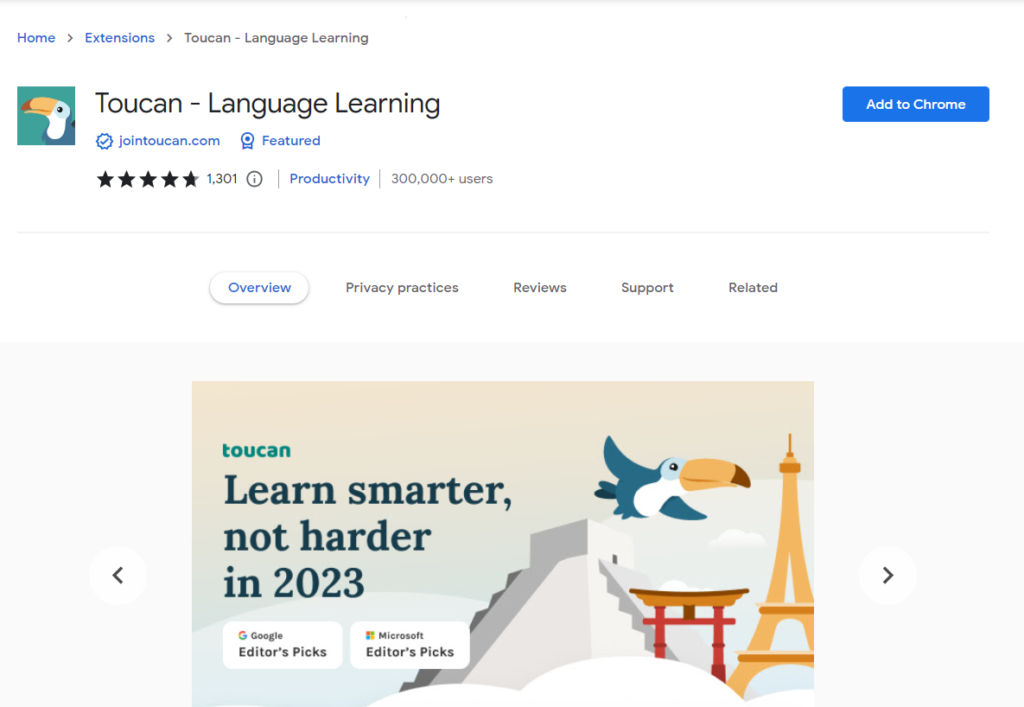 What is Toucan?
If you wish to improve your vocabulary while browsing, Toucan is the right Chrome extension. You can learn new words in the target language by highlighting the words on the web page.
It offers a wide variety of languages letting multiple users select their preferred language and improve vocab.
Features:
Translates phrases and words for quick learning
Enhances language vocabulary
Learn while you browse
Customize the difficulty level and frequency of word replacements
Supports audio pronunciations
#7 Language Learning with YouTube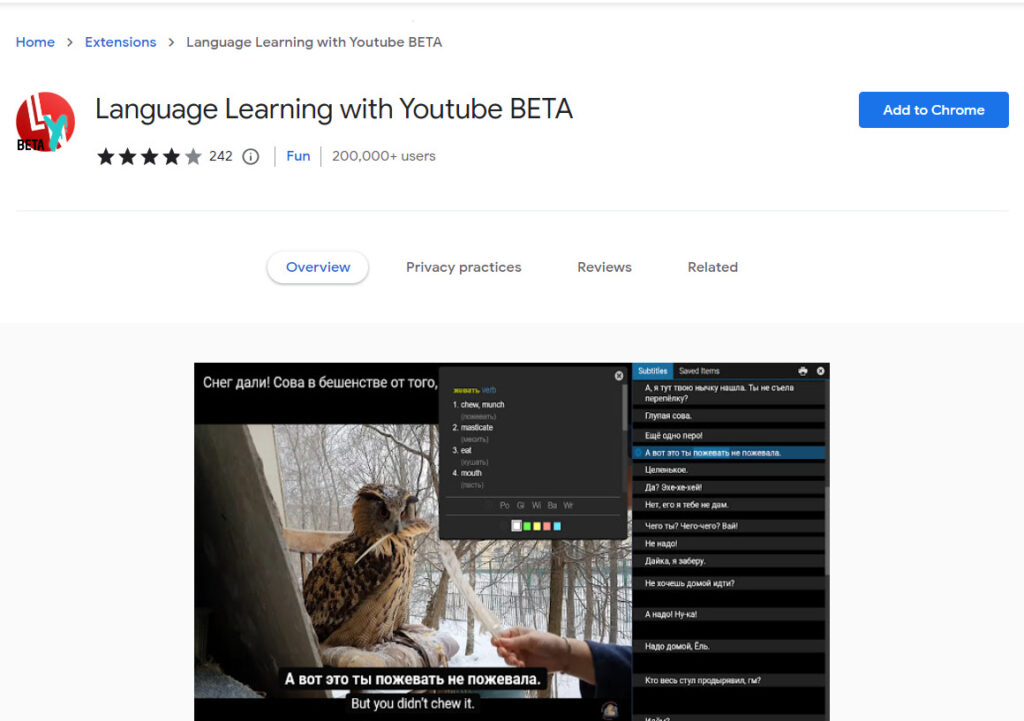 What is Language Learning with YouTube?
YouTube is a popular online video-learning platform. Language learning with the YouTube Chrome extension allows learning a new language through YouTube videos.
It adds additional features to the YouTube interface for learning the language used in the YouTube video. You can read subtitles in the desired target language.
Features:
Provides subtitles in the target and original language
Improves language comprehension
Provides definitions and translations
Flashcards and quizzes to reinforce learning
Supports adjusting playback speed and loop sections
#8 Fluent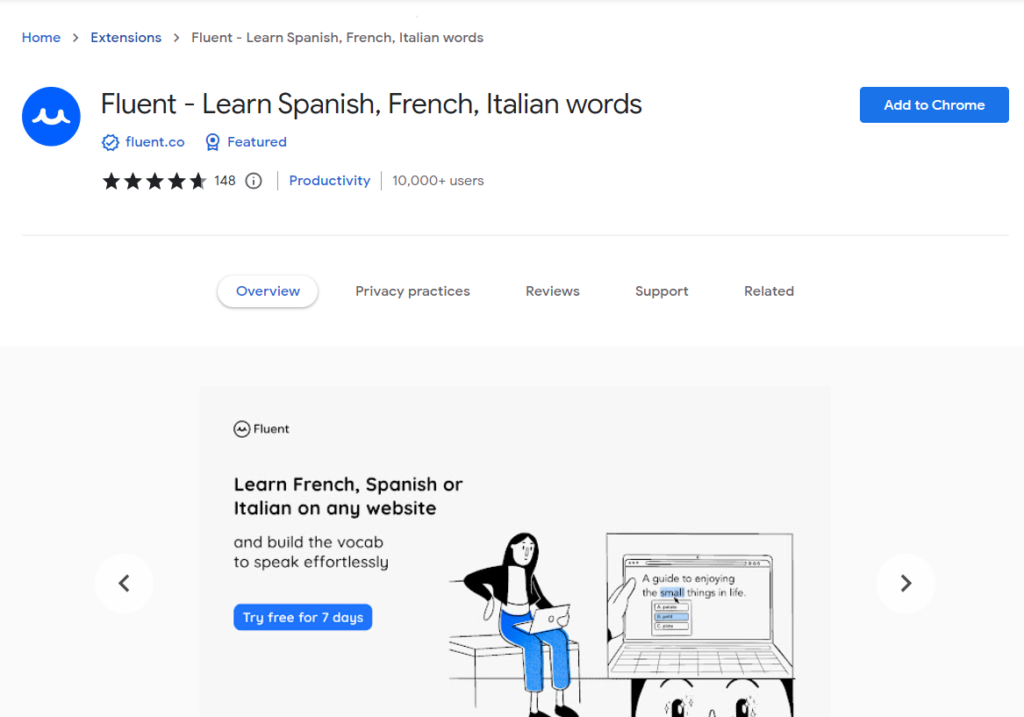 What is Fluent?
Fluent is one of the language-learning Chrome extensions for specifically three languages. The supported languages are French, Spanish, and Italian. It helps you improve your vocabulary and comprehension in these three languages.
It displays new words and translations every time you open a new browser tab. The spaced repetition technique allows you to reinforce all your learning.
Features:
Ideal for those who want to learn Spanish, French, and Italian
Save words for future review
Supports audio pronunciation for longer retention
Quizzes for daily practice
Review sessions for effective memorization
#9 Language learning with Netflix & YouTube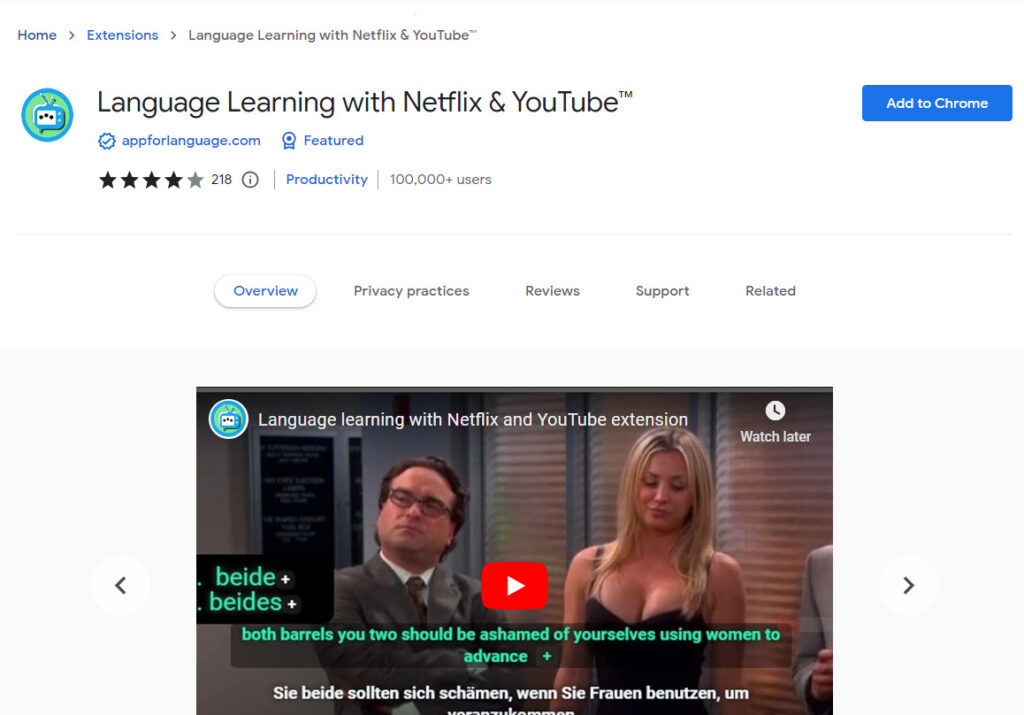 What is Language Learning with Netflix & YouTube?
Similar to the language reactor Chrome extension, it allows you to learn new languages by watching videos on popular video streaming websites. You can watch your favorite series, and movies on YouTube and Netflix in the target language.
It generates and displays subtitles in the chosen target language. You can simultaneously view translations and definitions of complex words while watching.
Features:
Quick translations
Dual subtitles options
Supports multiple languages
Has built pronunciation audio feature
Customizable subtitle display settings
#10 eLang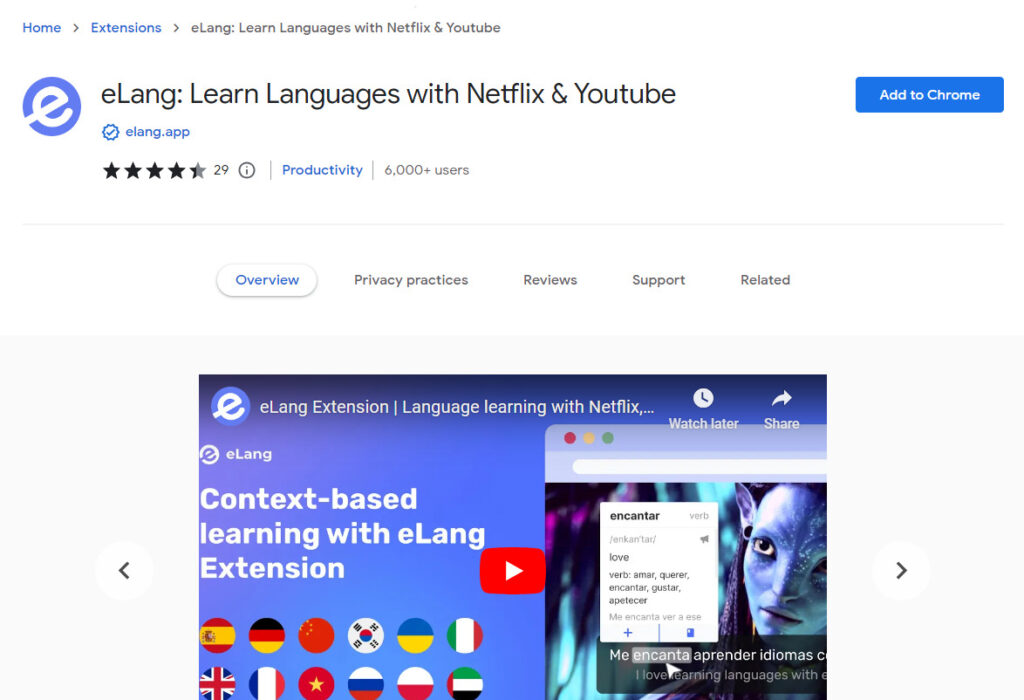 What is eLang?
eLang is an invaluable Chrome extension tool for learners who wish to learn a new language by watching their favorite shows and online courses. eLang is compatible with Netflix, YouTube, and Coursera. Thus, you can watch videos and learn new language pronunciation, and vocabulary.
Features:
Quick words and phrase translations
Detailed information about synonyms and pronunciation
Enhances pronunciation through native speaking
Can create a library of words for future reference
Supports multiple languages
Conclusion
Best Chrome extensions for language learning have enriched the world of new language learning. You can now easily learn, practice and enhance any language with your browser. Chrome extensions provide audio pronunciation, vocabulary building, and flashcards for effective memorization.
By incorporating these Chrome extensions, you can seamlessly take language proficiency to the next level and deepen your understanding.