Being productive in this busy world is all everyone wants to have. Everyone has a different definition of productivity according to their work and environment.
In general, being productive is measured by the amount of work you can achieve in a specified amount of time. High productivity implies you complete more work in less time and with greater efficiency.
Numerous tools help you be productive in life. These tools simplify your tasks and help achieve success. Today we will tell you about some of the best chrome extensions for productivity. But first, why do you need to be productive at all?
Let's explore the benefits of being productive here.
Benefits of Productivity
Productivity is crucial in achieving your goals efficiently. By following it in the right way, you can reap numerous benefits, including reducing stress levels, providing a sense of purpose, achieving more things, enhancing sustainability, boosting mood levels, increasing engagement with work, giving you time to relax, and reducing mistakes.
With increased productivity, you can improve your work-life balance and take care of yourself while achieving success. Now, you know the importance of productivity in your life, the next thing is how do you stay productive?
How to Stay Productive
Productivity can be sometimes hard to achieve. There are a lot of mechanisms through which you can achieve productivity in your work and life.
Some of these ways are as follows:
Time Management
Time is a crucial resource that you should always use carefully. Effective time management helps in utilizing your time more mindfully rather than wasting it on useless things.
Time management is dividing time into the crucial tasks you need to complete. You block your time for things that you have to complete on priority. It helps ensure you complete the tasks on time and be productive.
Writing To-do Lists
To-do lists are one of the ways of organizing your tasks in lists. You list all your priority tasks in one place. You can then try to complete all the tasks listed in the to-do lists.
To-do lists help you remember all the tasks that you have to do. Also, you don't have to bear the pressure of remembering everything that you need to complete.
Find a Role Model
Getting inspired is one way to achieve productivity. Look out for people around you that are already productive. Get inspired by their habits or ways through which they stay productive.
Pay attention to the ways they manage their tasks and work. You can even ask for guidelines about managing your tasks and time. It will help you learn techniques that work in real-time to achieve productivity.
Pomodoro Technique
The Pomodoro technique is one of the popular techniques of being productive. It implies that you work for 25 mins straight and then take 5 mins of break. You repeat this cycle four times. Each interval is called one Pomodoro.
In this technique, you work on the task at hand without any distractions for continuous 25 minutes. It helps you focus on one thing and then relax for 5 mins.
Avoid Distractions
We often get interrupted during work by either phone calls or our peers messaging us. Our mind gets distracted by the conversation and eventually work gets delayed.
Avoid distractions like buzzing phones, and social media notifications, and frequently checking emails can help you stay focused and productive in your work.
Note down the things that make you feel distracted while working. Keep away distractions during your work hours. You can even set time blocks to entertain all the distractions during your day. It helps your mind focus on work rather than distractions.
#1 Best Chrome Extensions for Task Management
We discussed some of the ways you can stay productive during work. But to apply those methods, you need tools. Google chrome offers several extensions that you can use to stay productive while working.
Here are some of the best chrome extensions for task management:
#1.1 Todoist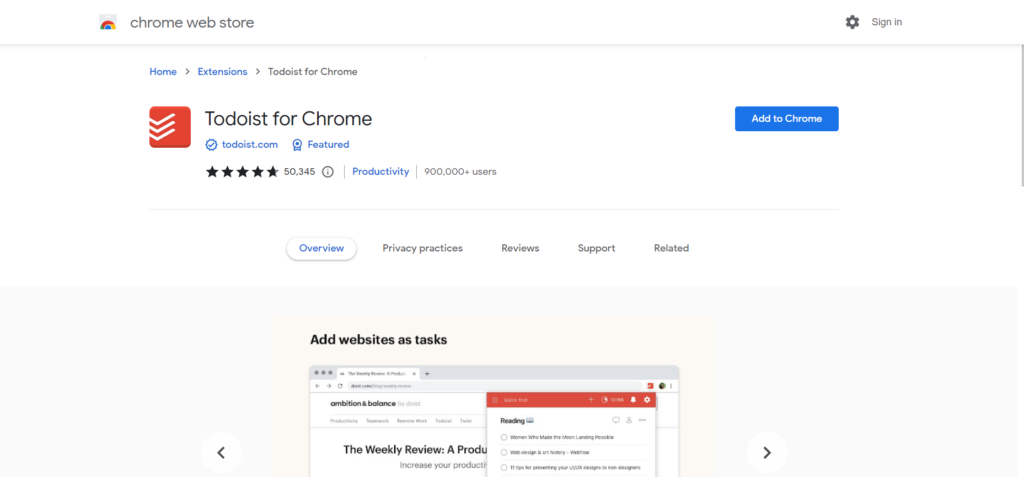 What is Todoist
Todoist is one of the best chrome extensions for task managers. It is a simple yet efficient chrome extension for productivity. With Todoist, you can keep track of all your projects and ongoing tasks in one place.
You can directly add or remove tasks and projects from Google Chrome. With Todoist, you can even list all your tasks for the day and upcoming.
Why Choose Todoist
You can even set reminders for tasks and meetings to attend
You can set a monthly plan of tasks and projects and can review it from one place
Manage all the projects and create sub-projects from one single place
Link with other applications like voice assistant, calendar, etc.
It provides recommendations to stay productive while you work.
#1.2 TickTick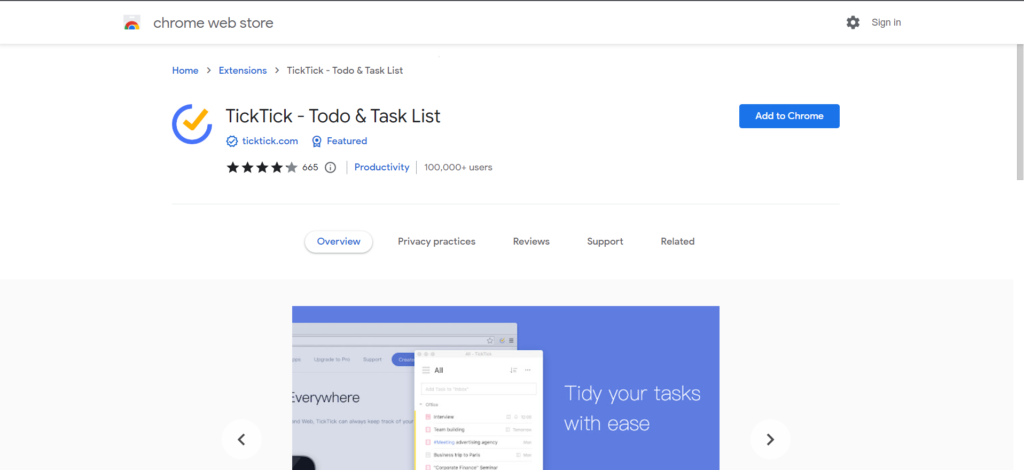 What is TickTick?
TickTick is one of the best tools available for writing to-do lists and tracking your work. With its cross-platform ability, you can use the chrome extension on all devices including ios, android, etc.
For efficient organization, TickTick allows you to back up data on the ticktick.com website. Thus, you can store your task list for future reference.
Why Choose Ticktick?
Ticktick allows you to backup your to-do lists and tasks
It allows you to set the due date for all the tasks that you enter in TickTick
Ticktick counts the overdue tasks and gives a reminder about them
It allows you to sync your to-do lists across all devices
The add to Ticktick button appears on the browser so that you can add anything to your task list without switching tabs.
#1.3 Clickup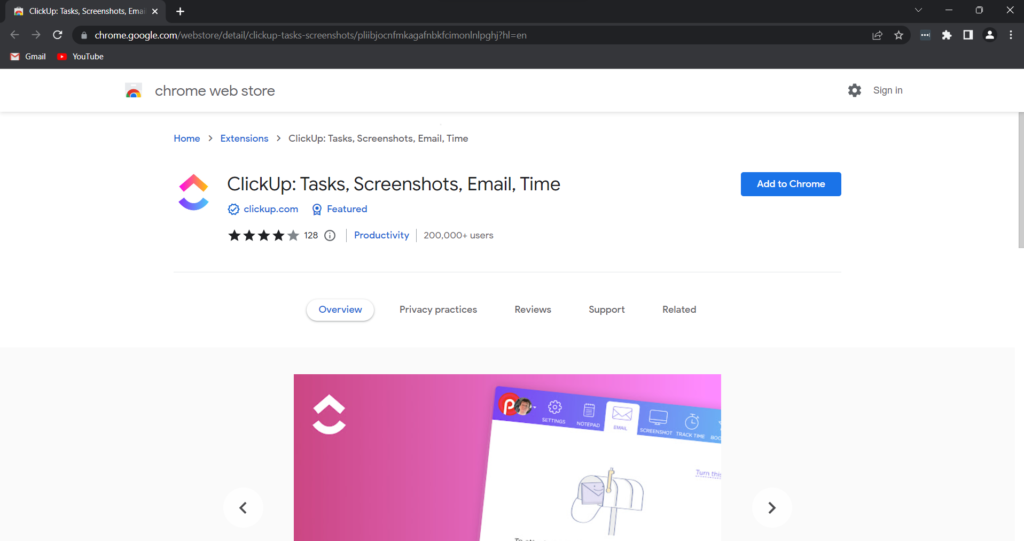 What is Clickup?
Clickup is one of the best chrome extensions for productivity. You can't ask more of Clickup. It lets you organize your work, projects, tasks, goals, and everything in one place.
You can manage your entire business workflow through Clickup. The customization abilities of Clickup make it one of the best chrome extensions for working from home.
You can even manage your teams and their tasks from one single interface using Clickup.
The cloud-based project management tools let businesses of every size manage their projects without hassle.
Why Choose Clickup?
It provides a single place to manage the entire business workflow along with team management
The customization abilities allow you to use the software according to your comfort and requirements.
The communication and collaboration tools let you manage your team seamlessly while working from home
It is one of the best chrome extensions for it professionals as they can track their daily tasks without hassle
It makes your team communicate and collaborate effectively and complete projects on time.
#2 Best Chrome Extensions for Note Taking
We always require notes. We write notes while studying, watching lectures, attending a meeting, etc. Here are some of the best chrome extensions that can help you write notes seamlessly.
#2.1 Google Keep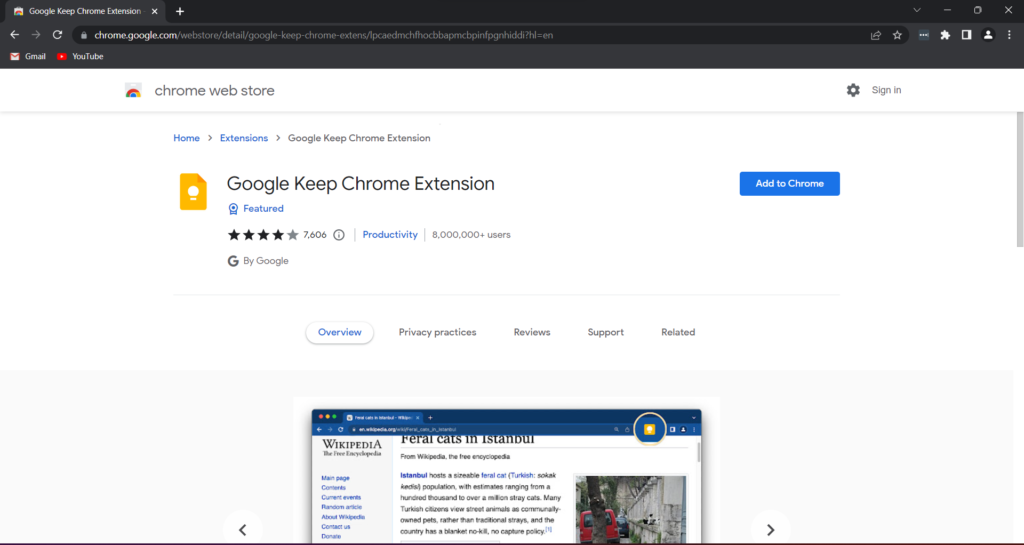 What is Google Keep?
Several times you have to write meeting notes, discussion points, and brain dumps. Google Keep is one of the best chrome extensions for office use. You can use Google Keep to write notes, make lists, create reminders, and organize ideas.
With Google Keep, you can even add images and screenshots to your notes. You can organize your writing by color-coding the background of the pages. You can even take voice memos while working or in a meeting with Google Keep.
Why Choose Google Keep?
The color coding mechanism of Google Keep allows one to segregate and organize notes
You can add visuals for better remembering
You can even create lists and check off individual items when done
You can synchronize notes across your Google account
Simple and easy UI makes writing notes easy for beginners.
#2.2 Evernote Web Clipper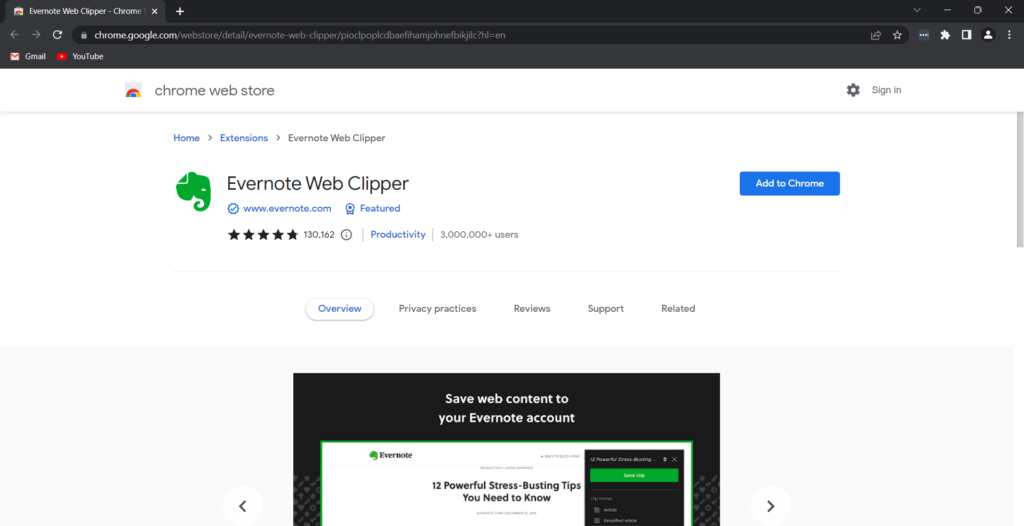 What is Evernote Web Clipper?
With Evernote Web Clipper you can easily capture screenshots of notes that you want to take. With Evernote Web Clipper, you can capture images, videos, screenshots, and much more.
You can save anything you want to store in your Evernote account. It is similar to capturing screenshots. Yes, it's easy to take notes with Evernote.
Why Choose Evernote Web Clipper?
You can save anything from the web into your Evernote account.
You can just clip the screenshot of the image, pdf, or video to add as a note to your Evernote account
You can capture the full screen of the web page and add it to Evernote
You can add annotations, and text and highlight text on the captured clip. You can tag the captured clips with keywords. It helps in finding your images in the future.
#2.3 Note Anywhere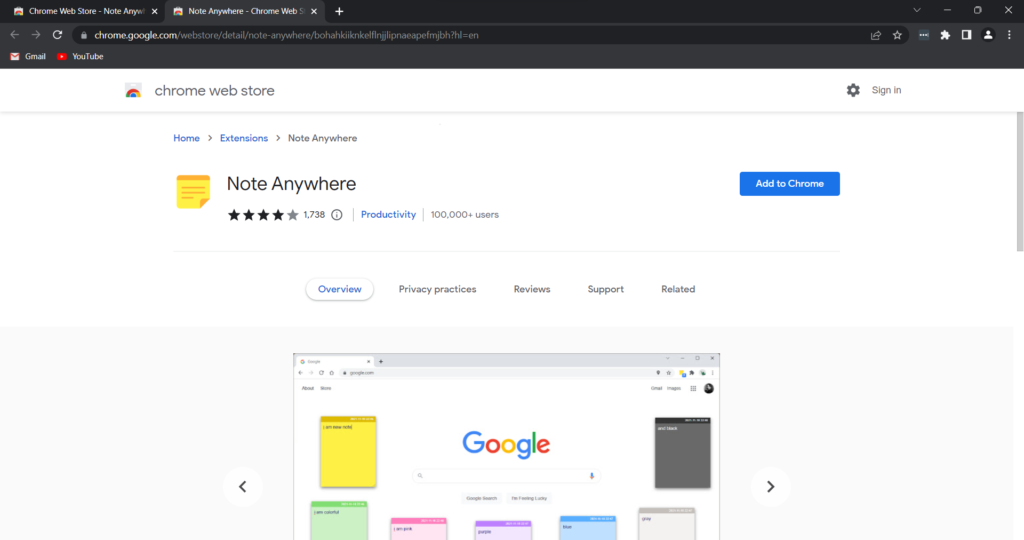 What is Note Anywhere?
Note Anywhere is a simple, useful Google Chrome extension for note-taking. It allows you to take notes anywhere on the web page when you want to. You can write on the same page itself. When you load a web page, the notes reappear.
Why Choose Note Anywhere?
A simple and useful note-taking on the same web page
The notes are saved in real-time. When you revisit the web page, you can see the notes in the same place
You can change the styles of the notes written on the web page.
You can list all the notes on the page in one place and have a quick look
You can create a note by simply right-clicking on the web page.
#3 Best Chrome Extensions for Time Management
Time management is one of the crucial techniques that helps in staying productive. Here are some of the best chrome extensions that can help you with time management
#3.1 RescueTime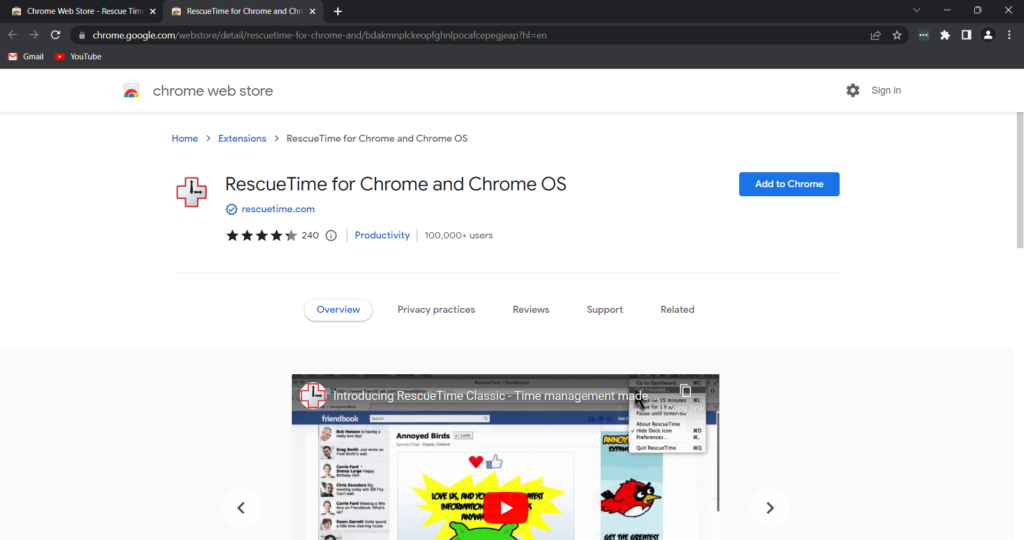 What is RescueTime?
RescueTime is one of the best chrome extensions for time management. It allows you to track the time that you spend on different websites on Google Chrome. It runs in the background and tracks time spent on various websites.
It gives you the overall view of spending time over the day. It helps you get insights into how you can manage time effectively. You can see where to save time and where to spend more.
Why Choose Rescue Time?
RescueTime provides insights into where you spend your time the whole day
You can decide where your time is invested
It runs in the background, so you don't have to manually track your time.
It stops automatically when you turn off your computer or the Google Chrome browser
It automatically categorizes the websites as very productive and wasting according to the time spent in the day.
#3.2 StayFocused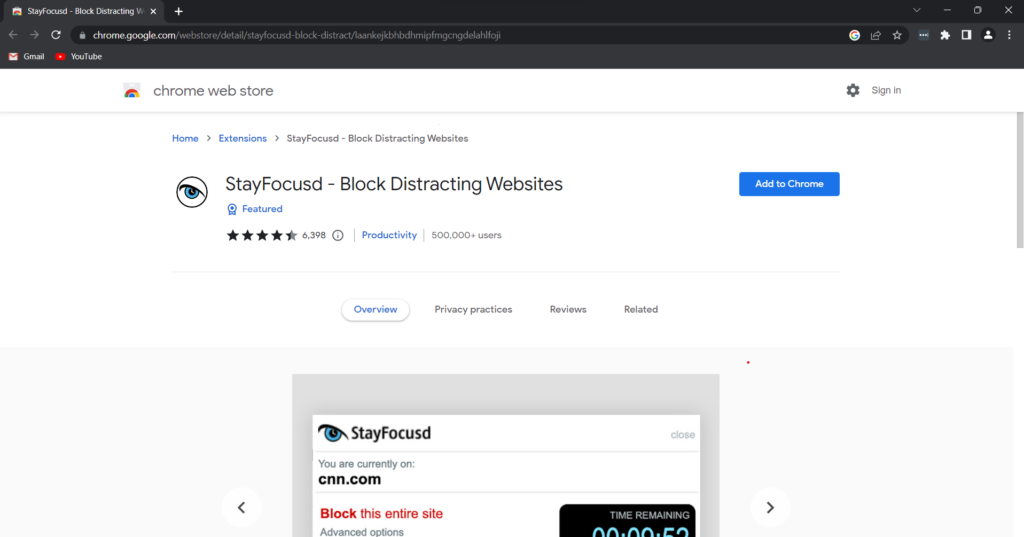 What is StayFocused?
StayFocused is one of the best chrome extensions for productivity. It helps you Stay Focused on the websites that are related to your work. It restricts the time you spend on non-productive websites.
You can assign the websites that need to be restricted after a certain amount of time. Once the assigned time is complete, the website is blocked for the rest of the time.
Why Choose Stay Focused?
It blocks the websites that waste time after a certain amount of time
It is a highly configurable chrome extension
You can add the sites that are productive and non-productive
You can even restrict sub-pages, sections on the web pages, and even videos on web pages
It helps you avoid time-wasting activities.
#4 Best Chrome Extensions for Email Management
Email management helps in sorting your daily emails and staying productive. With effective email management, you can strive for productivity and work on the priority items instead of juggling with mail trails.
Here are some of the best chrome extensions for email management
#4.1 Boomerang for Gmail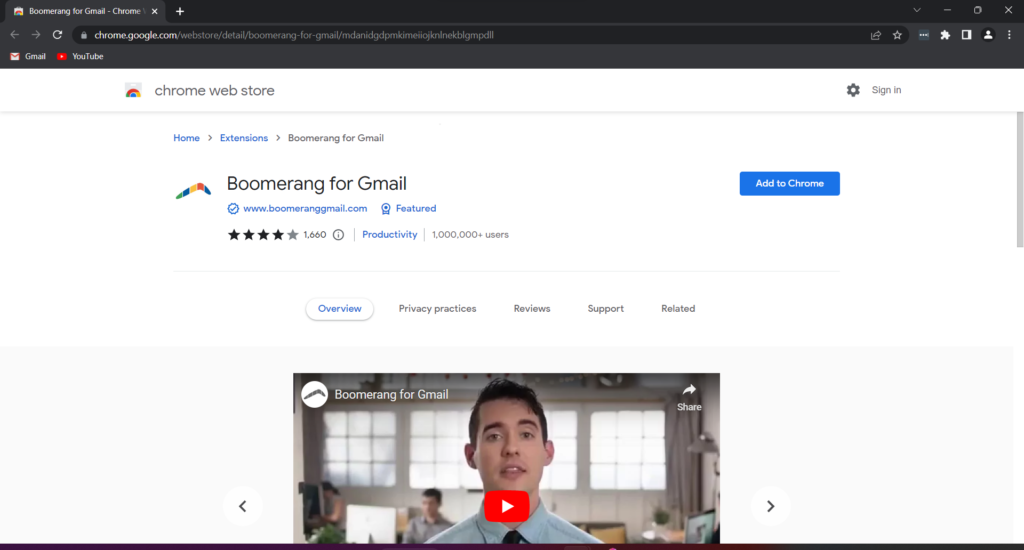 What is Boomerang?
Boomerang is one of the best Chrome extensions for email management that you can ask for. It allows you to send an email at a set time and even provide reminders for follow-up on important emails.
It also provides a responsible ai assistant to help write effective emails. Thus, your email will always be of top-notch quality. This Google Chrome extension allows you to use Boomerang right inside Gmail.
Why Choose Boomerang?
You can easily schedule emails to be sent at a later date or time
The ai assistant in the extension helps you write effective emails and avoid mistakes.
The extensions provide you reminders to look up follow-up emails if you don't get a response
The cross-platform read receipts help in knowing that your emails have been opened and read,
The snooze email option lets you receive an email when you have the time to read and reply to them.
#4.2 Checker Plus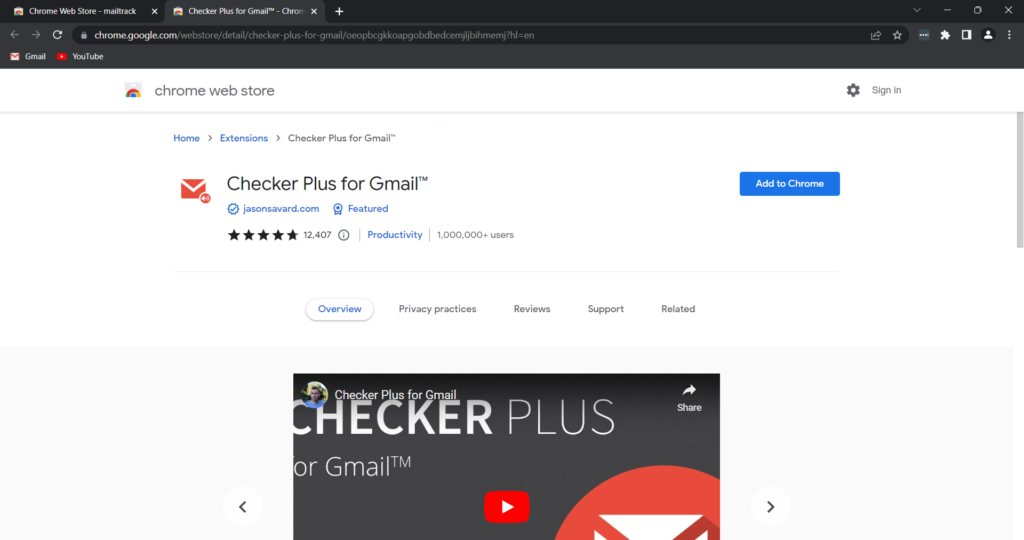 What is Checker Plus?
Checker Plus is one of the best chrome extensions for managing multiple mail accounts. With this Google Chrome extension, you can read, delete and view emails without opening a Gmail account.
It does not restrict the number of Gmail accounts you can view in the extension. Thus, it is easier for you to manage all your emails from one place.
Why Choose Checker Plus?
It helps in managing multiple Gmail accounts in one place
It does not require opening an individual mail account to read the emails
It also supports push notifications for the emails received
You can even delete unnecessary emails from the panel list
It also supports the offline view of the received mail.
#4.3 Mailtrack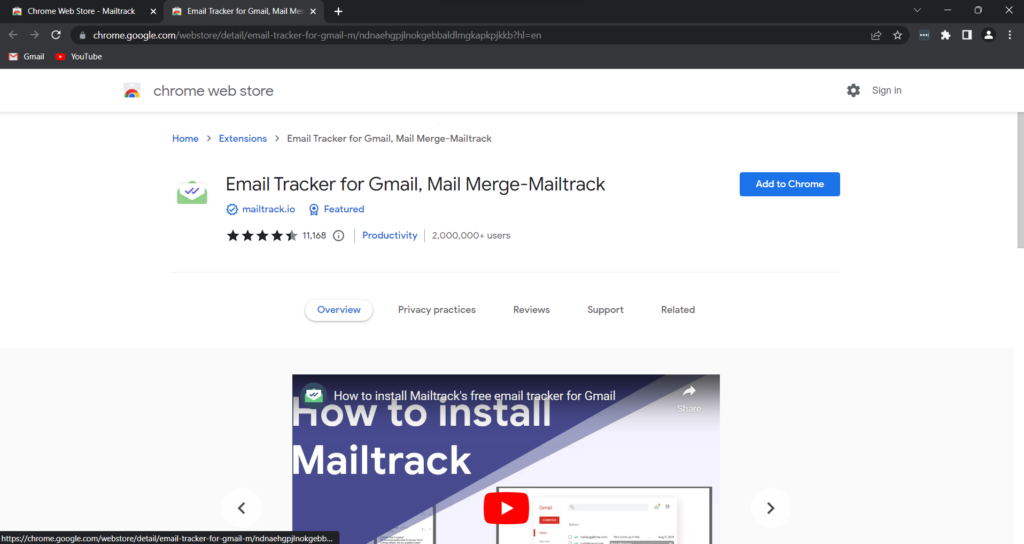 What is Mailtrack?
Mailtrack is one of the email marketing tools that helps you in assisting in managing email campaigns. It provides you with the ability of unlimited email tracking that you send as a part of the campaign. It is a great tool for email marketing agencies and individuals.
You can monitor the behavior of the people that opened your mail like when they opened it, whether it is opened or not, etc.
Why Choose Mail Track?
Mailtrack has over 2 million users
Its security audit is done by Google
It has higher open rates than other mail trackers
It provides easy follow-up mechanisms
It provides features for bulk emails for email marketing
#5 Miscellaneous Chrome Extensions for Productivity
Productivity helps in efficiently achieving all the work that you need to complete. It is not about achieving more but achieving priority things in less time.
Here are some of the best chrome extensions for productivity that you can add to your chrome for productivity.
#5.1 Grammarly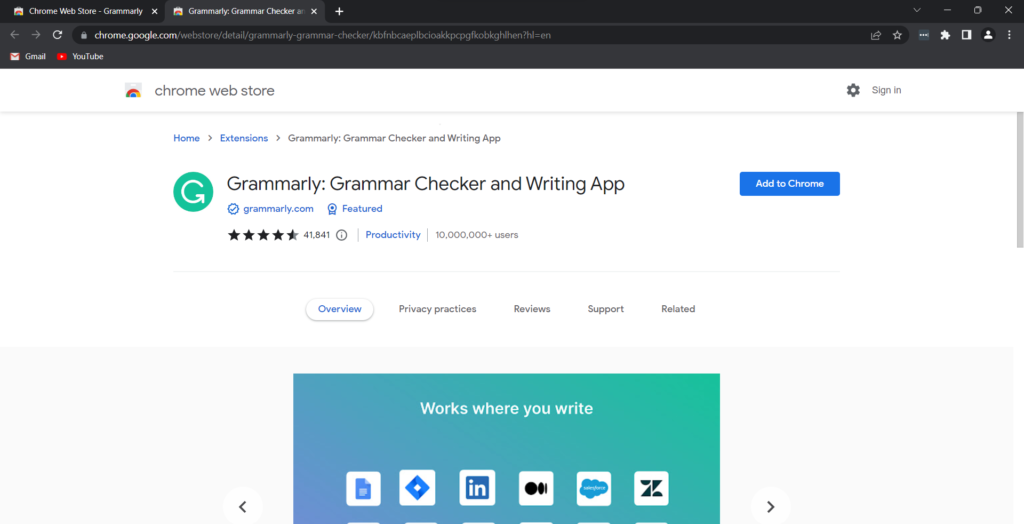 What is Grammarly?
Grammarly is one of the best chrome extensions for business. It lets you correct all the grammatical mistakes that occur while writing either a letter or a blog. It is one of the most efficient tools to write grammar-error-free content.
The spell-checking capabilities, clarity corrections, tone adjustment, and plagiarism checks are some of the highlight features of Grammarly. With the Google Chrome extension of Grammarly, you can check for grammatical errors everywhere you write something in the browser.
Why Choose Grammarly?
The free Google Chrome extension for business provides free spell check, clarity correction, and grammatical error checks
It can work on all websites while drafting emails and writing blog content
Easy to use for all – whether you are a student or it professional
It improves your writing performance and the quality of your writing
Plagiarism checks help you avoid writing repetitive or copied content
#5.2 Onetab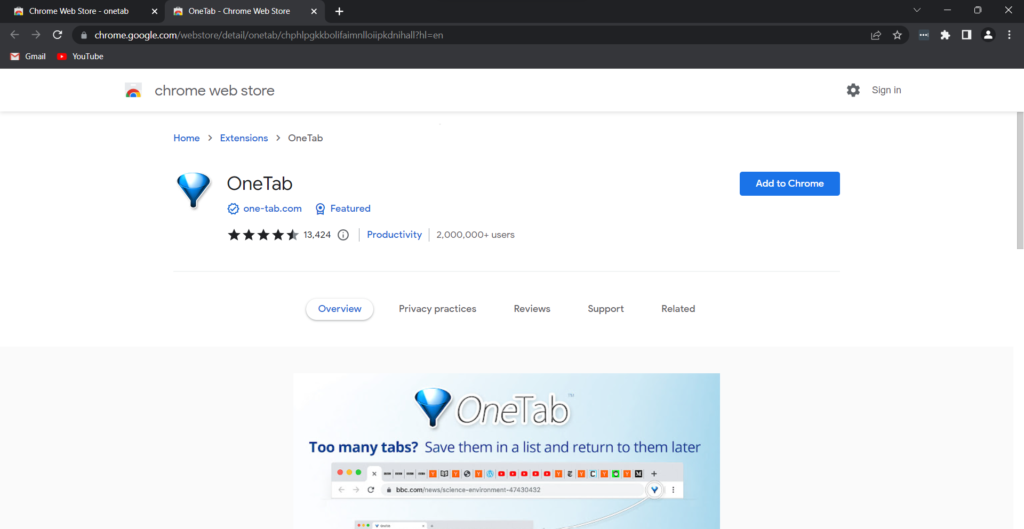 What is Onetab?
Onetab is one of the best extensions for the organization. It helps you make all your open tabs in the browser a list. It lets you organize the number of browser tabs you open in the browser without getting lost. You can click the browser tab in the list you want to open.
You can even restore all the tabs in the list at once. The Google Chrome extension helps you save time while organizing your browser workspace. It lets you focus on the browser tab that you are working on instead of juggling between all the open browser tabs.
Why Choose Onetab?
It is an easy one-click solution to organize browser tabs
It lets you save browser tabs for future reference without closing them
It reduces the browser's memory storage.
It simplifies sharing browser tabs with others.
It reduces CPU load by reducing the number of open browser tabs.
#5.3 Adblock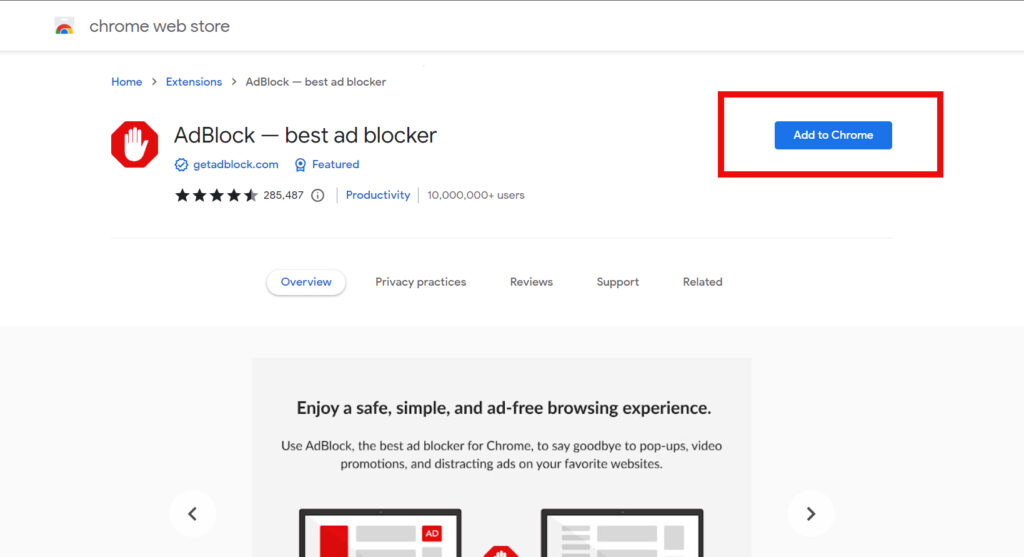 What is Adblock?
Ads are one of the distractive elements while working online. It can easily distract you while working on another website.
Blocking ads is one of the best ways to stay productive while working. Adblock is one of the best chrome extensions for productivity, as it blocks the display of ads while you work.
With the AdBlock Google Chrome extension, you can easily surf through websites without getting distracted.
Why Choose Adblock?
It blocks pop-ups and ads while you search for your work
It helps avoid luring advertisements
It also helps block malware pages that appear in ads and pop-ups.
You can focus on your work at hand rather than getting redirected to streaming websites through ads.
You can even customize what you see instead of the ad.
#5.4 LastPass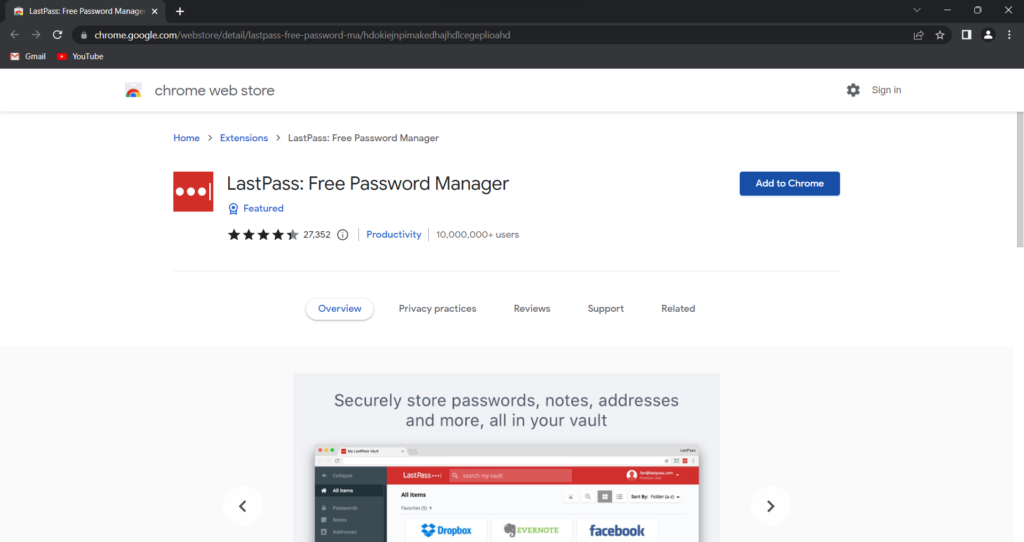 What is LastPass?
LastPass is one of the best extensions for office use. With LastPass, you never have to remember passwords for different websites. You can store all your passwords in LastPass in a secure way. It automatically fills the passwords as and when required.
You can save your addresses and passport details with LastPass. It helps you to keep your credentials safe and handy.
Why Choose Lastpass?
You don't have to remember all the passwords and fill them in manually
You can save other credentials and use them whenever required
LastPass provides strong suggestions while setting new passwords.
The master password of LastPass allows you to keep all your stored passwords safe and undetected
Multi-factor authentication mechanism adds another layer of security to the stored passwords.
If you want to know how to add last pass chrome extension you can check our guide >> how to add chrome extension
#5.5 Clockify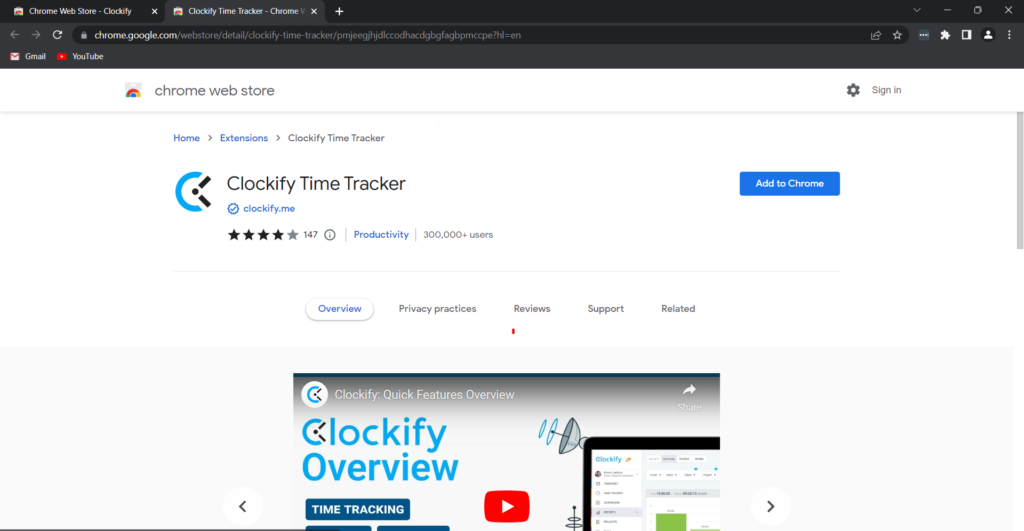 What is Clockify?
Time management is one key technique to staying productive. Clockify is one of the best chrome extensions for time management. It is a time-tracking app that lets you track your time on different activities.
It tracks the amount of time you spend across tabs and web pages throughout the day.
With the tracked data, you can be mindful of where to save your time and where to spend more. You can effectively manage your time by cutting down useless activities from the day.
Why Choose Clockify?
It requires a single click at the start of the day to start tracking time.
It allows you to input descriptions for all the time blocks
It helps you analyze your day
The Pomodoro timer helps you focus better on your work
You can create alerts for specific tasks and works
#5.6 Forest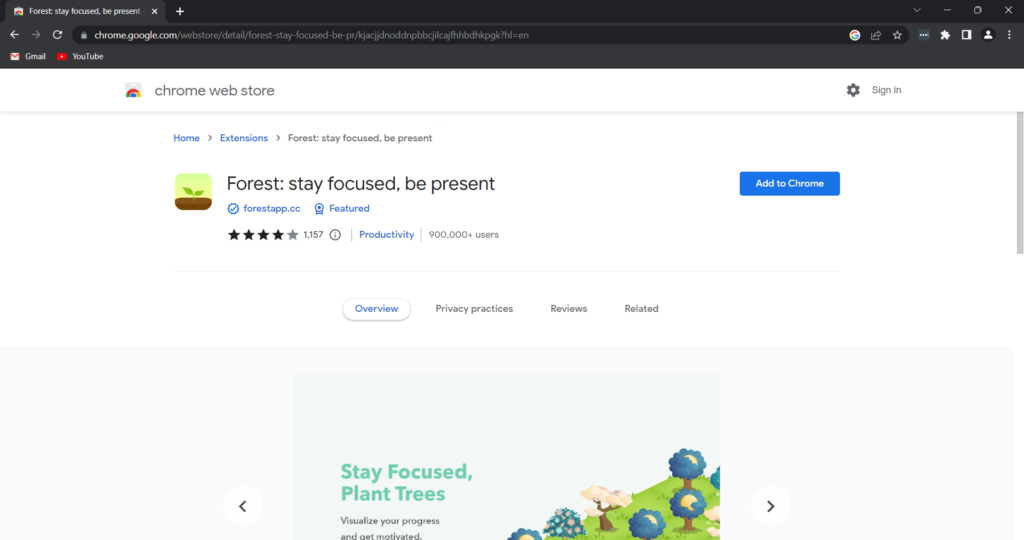 What is Forest?
Forest is the best chrome extension for focus. It is a mix of a game and a productivity app. It is based on the Pomodoro technique of staying focused on work and being productive.
You can set the timer according to how long you need to work. As the timer increases, a tree grows in the app. As soon as you pause the timer, the tree starts to dry. Thus, you stay focused on your work for the timer to complete.
Once you complete the timer, a forest gets added to your list as an accomplishment. It boosts the sense of achievement and you work more focused.
Why Choose Forest?
A simple, intuitive way to stay focused and productive
A new tree on completion strives for confidence to achieve pending tasks
You can even donate for tree growth with forest
Timer based approach lets you complete your task on time
The growing tree visual adds a sense of game while working
Conclusion
Productivity is necessary for you to accomplish goals and stay on track. Best Google Chrome extensions for productivity assist you in staying productive and completing your work on time.
Chrome extensions are super easy to install and work with. With just a few clicks, you can add the best chrome extensions for productivity and excel in your work.