Do you often love to watch live streams and play video games on Twitch? If yes, here are the best Chrome extensions for Twitch that can enhance the overall experience with Twitch.
These extensions level up the experience and enjoyment of the platform. Let's discover all these extensions.
How to Choose the Best Chrome Extensions for Twitch?
It is often difficult to find the appropriate Chrome extension from the pool. Here are a few features of the best Chrome extensions:
Compatibility with the Twitch platform
Chat and streaming customization options
Settings to tailor Twitch experience
Developer support for future updates
Stream enhancement options
Best Chrome Extensions for Twitch
Let's go…
#1 BetterTTV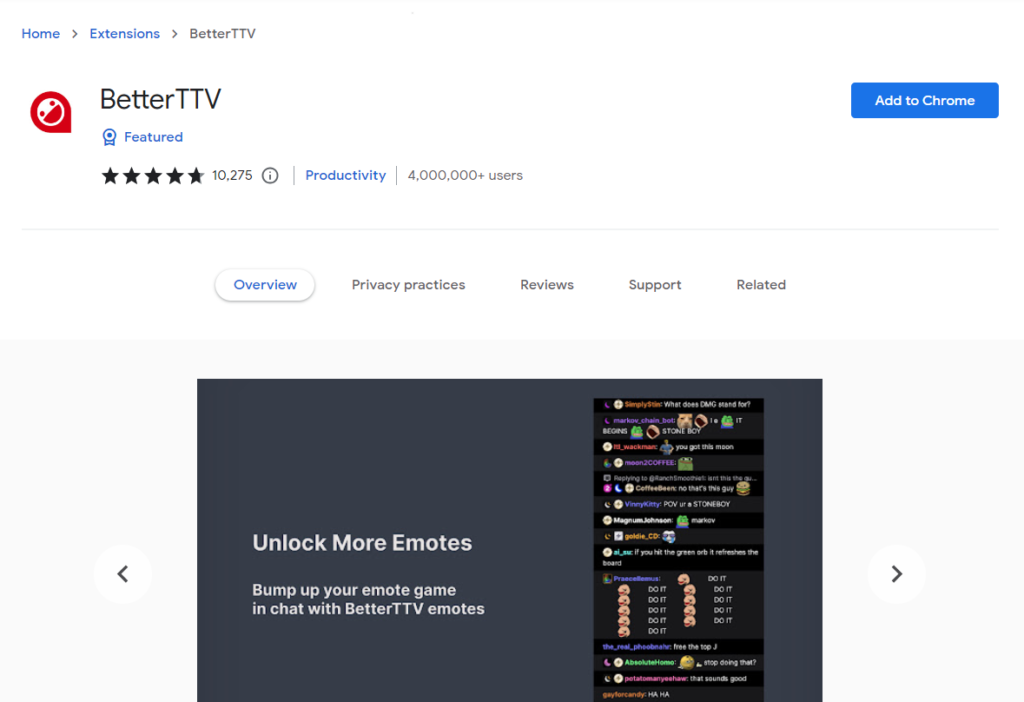 What is BetterTTV?
Are you searching to enhance your Twitch viewing experience, BetterTTV Chrome extension is the right choice. It is a feature-rich extension and offers a wide range of customization options.
You can enable dark mode, hide spoilers and have a seamless watching experience. the effective navigation makes it easier to find the emote for chats.
Features:
Wide customization options
Personalize your Twitch chat
Ensures compatibility with Twitch updates
Hides visual noise
Anonymous chat joining feature
#2 Unwanted Twitch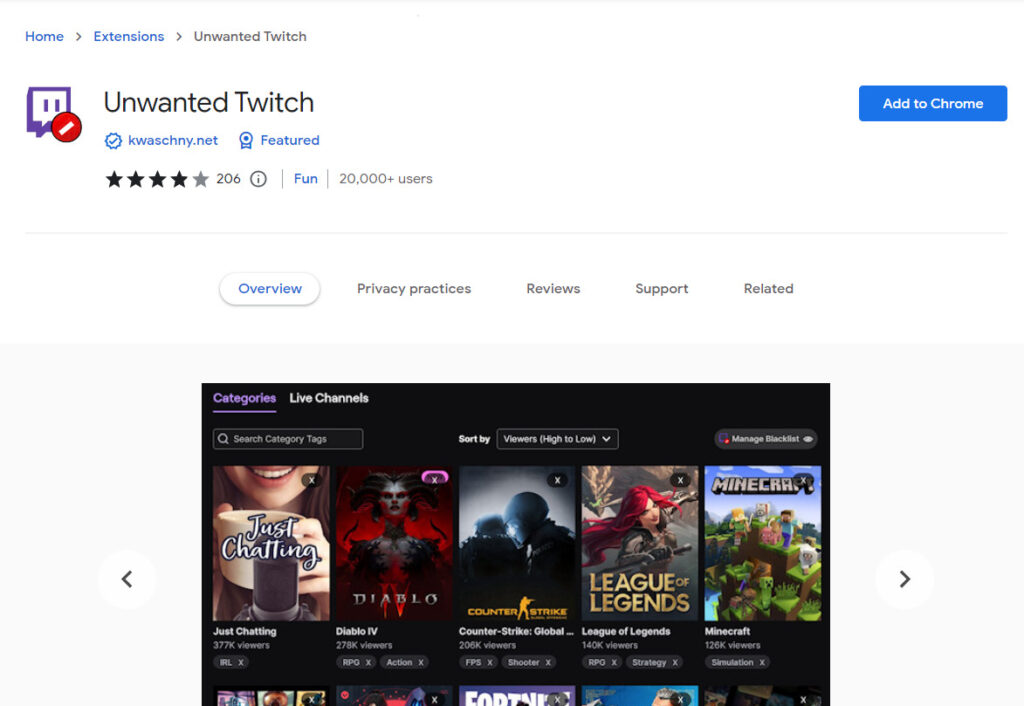 What is Unwanted Twitch?
Unwanted Twitch is one of the best Chrome extensions for customizing your Twitch experience. You can hide specific content like streams, channels, and anything irrelevant to you.
You can easily curate your Twitch feed and focus on the content that you like to watch. With its customization options, you can tailor your Twitch experience.
Features:
Block unwanted channels, categories, games, and streams
Blocks streams based on titles
Automatically sync between devices
Remove uninteresting and unwanted content
Avoid distractions
#3 NowStreaming – Twitch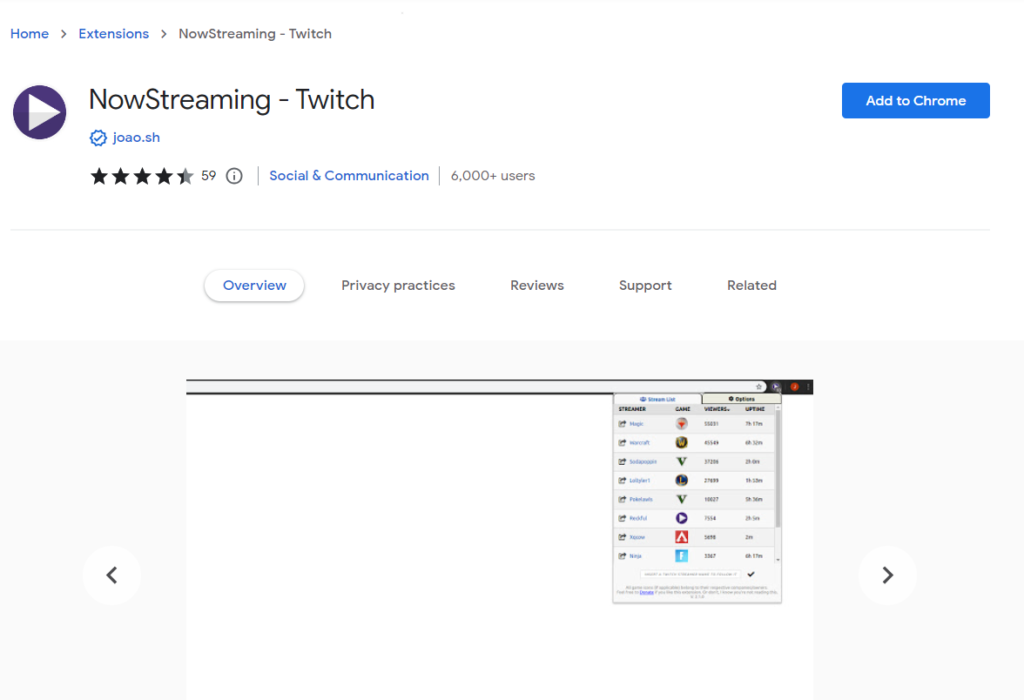 What is NowStreaming – Twitch?
NowStreaming – Twitch is a handy Chrome extension to get all the streaming notifications of your favorite Twitch streams. You get real-time notifications when your favorite streamers go live on Twitch.
You can customize the type of notifications you want to receive on Twitch. Thus, you never miss your favorite broadcasts.
Features:
Instant notifications
Watch all your favorite streamers on time
Customize your notifications settings
Let's stay connected and informed
Stay updated with live streams in real-time
#4 FrankerFaceZ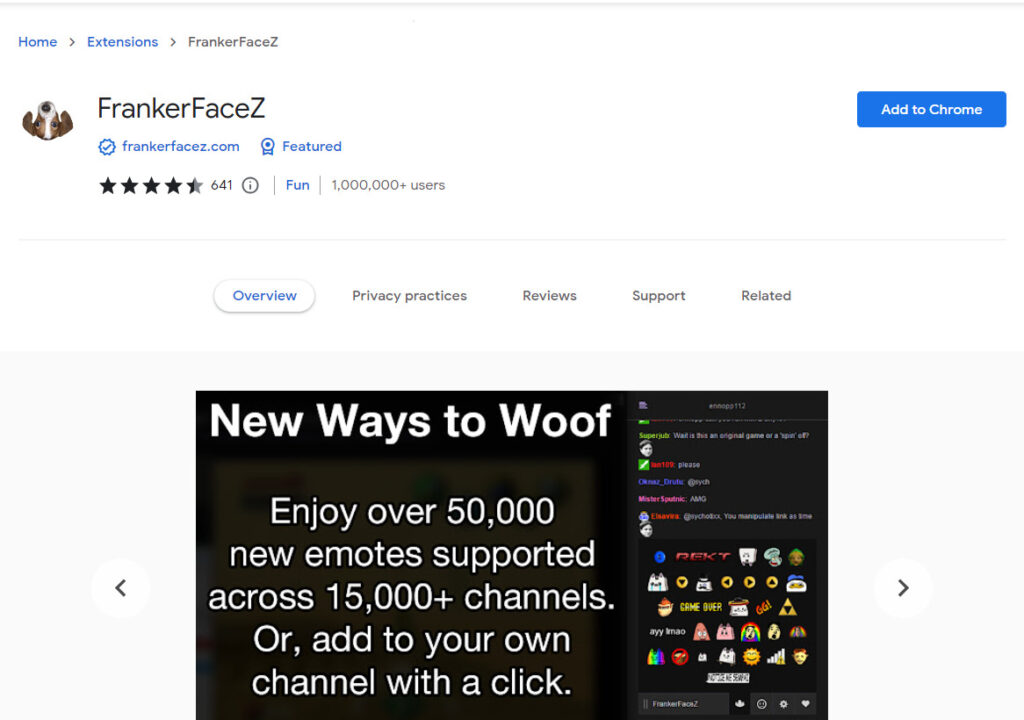 What is FrankerFaceZ?
FrankerFaceZ has additional features to make your Twitch experience seamless. You have access to an extensive library of emotes that you can use to customize your Twitch chat.
You can use advanced chat features like custom badges, filtering chat, and many more. Thus, it is one of the best Chrome extensions for Twitch.
Features:
A wealth of customization options
Extensive library of emotes
Compatible with regular Twitch updates
Add a layer of personalization to Twitch chats
Blocks malicious URLs
#5 Twitch Favorites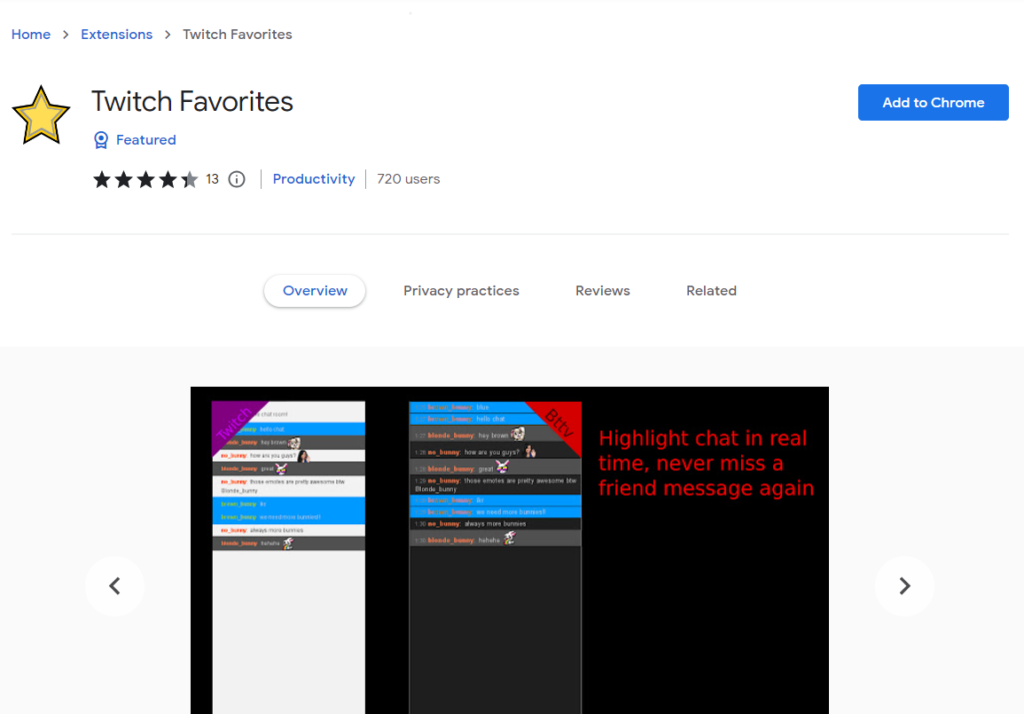 What are Twitch Favorites?
Twitch Favorites enhance your chat experiences through highlights. With this Chrome extension, you can highlight all your favorite chats and never miss any message.
You can choose to read your friend's message from thousands of people chatting on Twitch. Highlighting lets you see your selected chats at the top of the list.
Features:
Stay updated with your friend's chat
Setup custom color chats for specific people
Highlight chat in real-time
#6 Twitch Live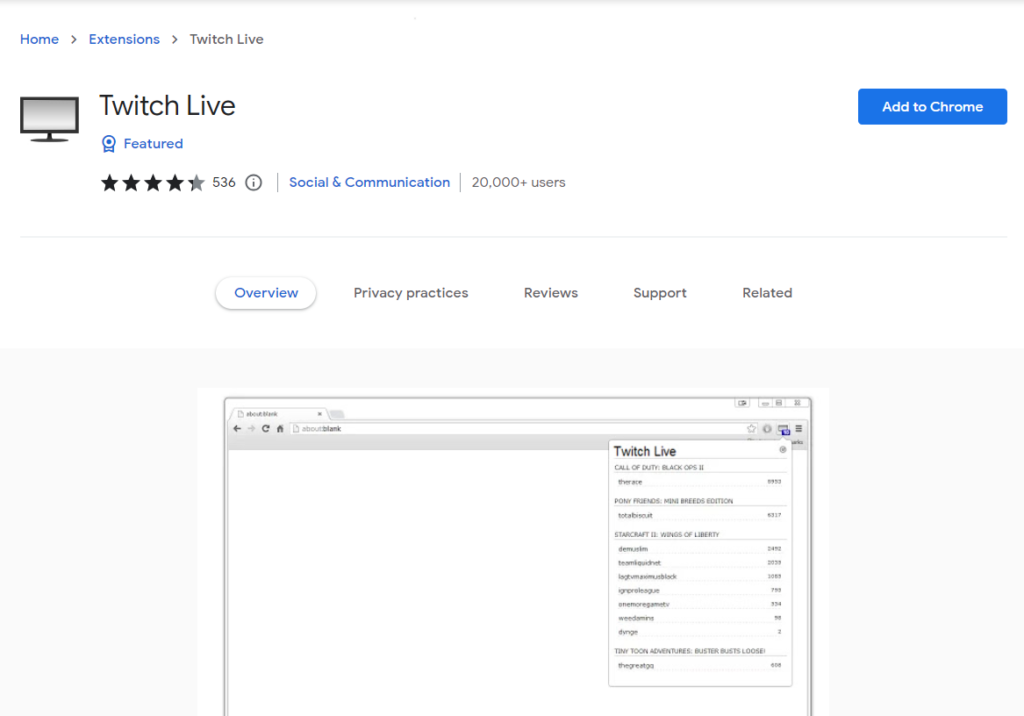 What is Twitch Live?
Do you often waste time searching for your favorite streams on Twitch? If yes, install Twitch live Chrome extension to stay updated with your favorite live streams.
The Chrome extension provides quick access to all your favorite streams on Twitch. the intuitive interface displays a list of all your favorite streams directly from your browser's toolbar.
Features:
Quick access to live to stream of favorite channels
Embedded in the browser's toolbar
Select preferred stream quality and channels
Setup notifications when channels go live
Join your favorite Twitch streams with one click
#7 Alternate Player for Twitch.tv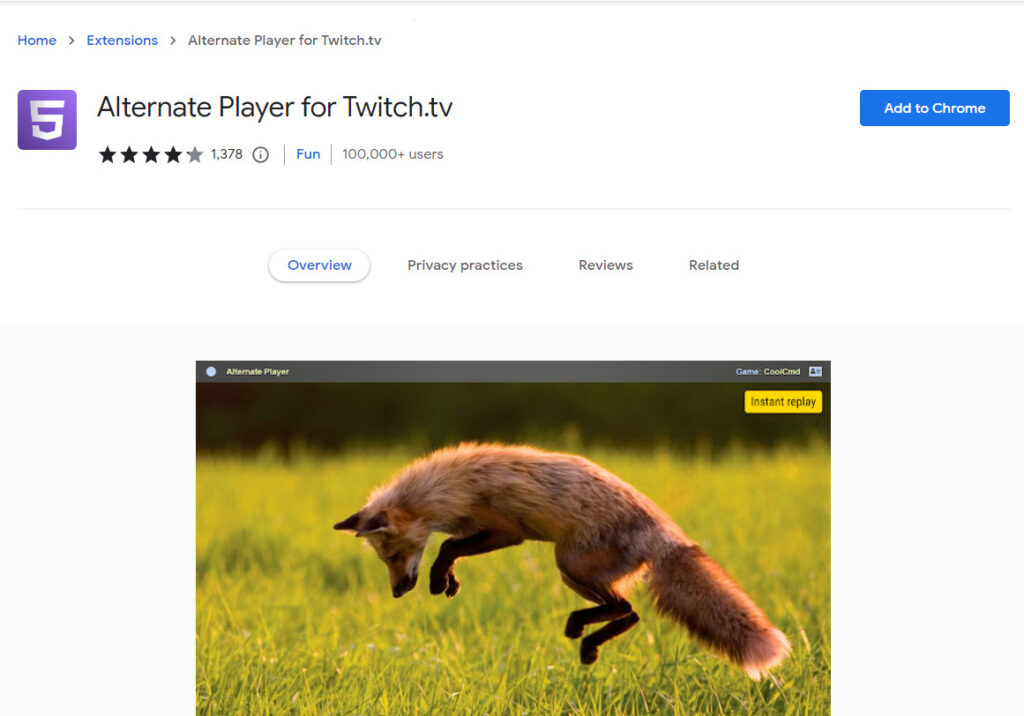 What is Alternate Player for Twitch Tv?
Alternate Player is a feature-rich Chrome extension with smooth playback and improved performance in playing Twitch streams. It makes use of an alternate player instead of the default Twitch player. Thus, it provides a seamless Twitch experience to the users.
You can adjust stream quality, buffering settings, and more through the alternate player Chrome extension.
Features:
Enable audio-only mode
Tune the player settings according to the internet bandwidth
Instant replays of the last few seconds
Theater mode for distraction-free viewing
Built-in ad-blocking capabilities
#8 Simple Twitch Giveaways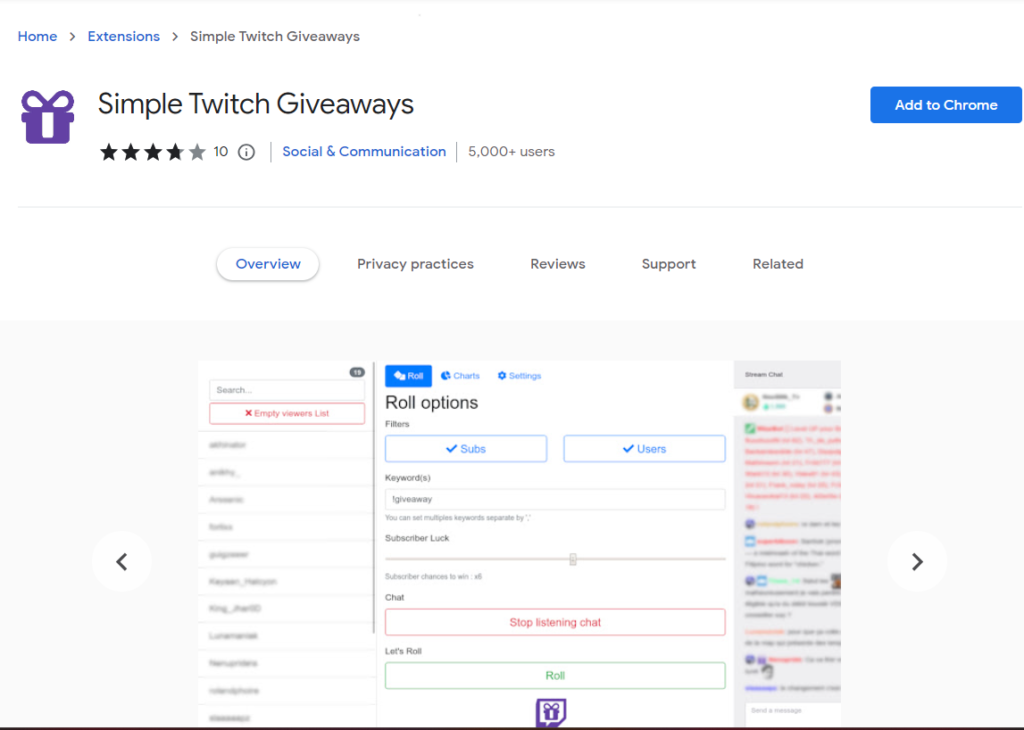 What is Simple Twitch Giveaways?
Are you ready to engage with your Twitch audience? Giveaways are one of the popular ways of engaging with your Twitch audiences. With the simple Twitch giveaways Chrome extension, you can seamlessly run and manage giveaways during the live streams.
You can customize your giveaways and fine-tune settings through the simple and intuitive interface of the extension.
Features:
Customize entry requirements
Select winners easily during live streams
Chat integration for seamless interactions
Reward the viewers
Displays live statistics
#9 Twitch Clip Downloader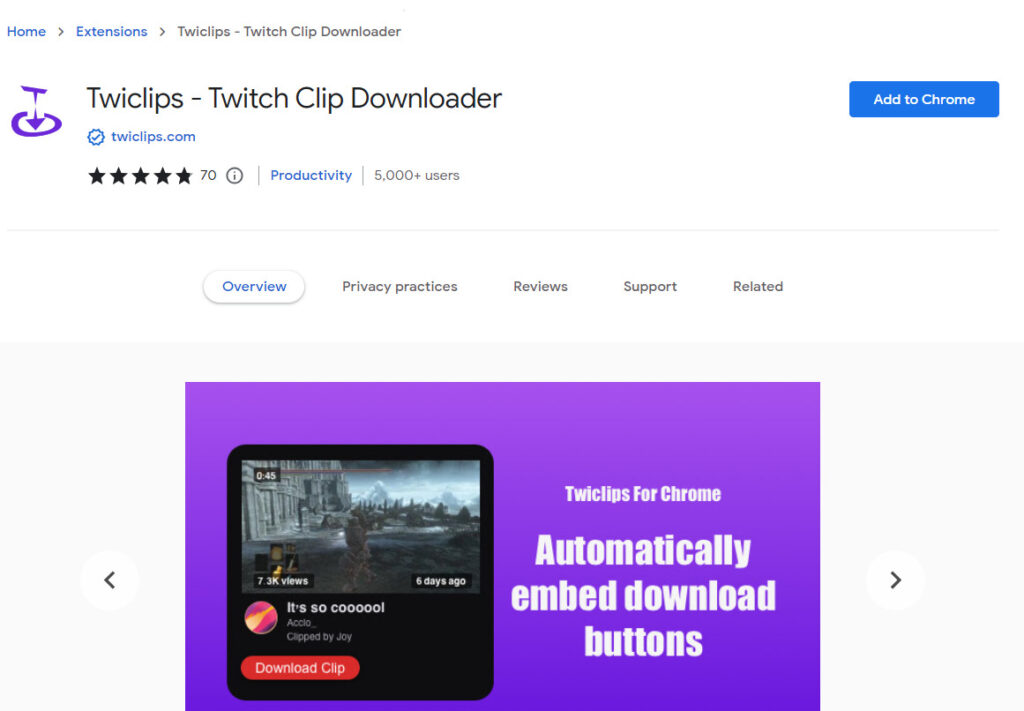 What is Twitch Clip Downloader?
With Twitch Clip Downloader, you can save your favorite Twitch clip to your device. You can view and share all the downloaded clips offline anytime.
The Chrome extension adds a download button to each Twitch clip. Thus, you can effortlessly download all the Twitch clips.
Features:
Download Twitch clips with a single click
Seamless integration with the Twitch website
Multiple video formats supported
Fast and reliable
Feature-rich Chrome extension
#10 Twitch Channel Points Autoclicker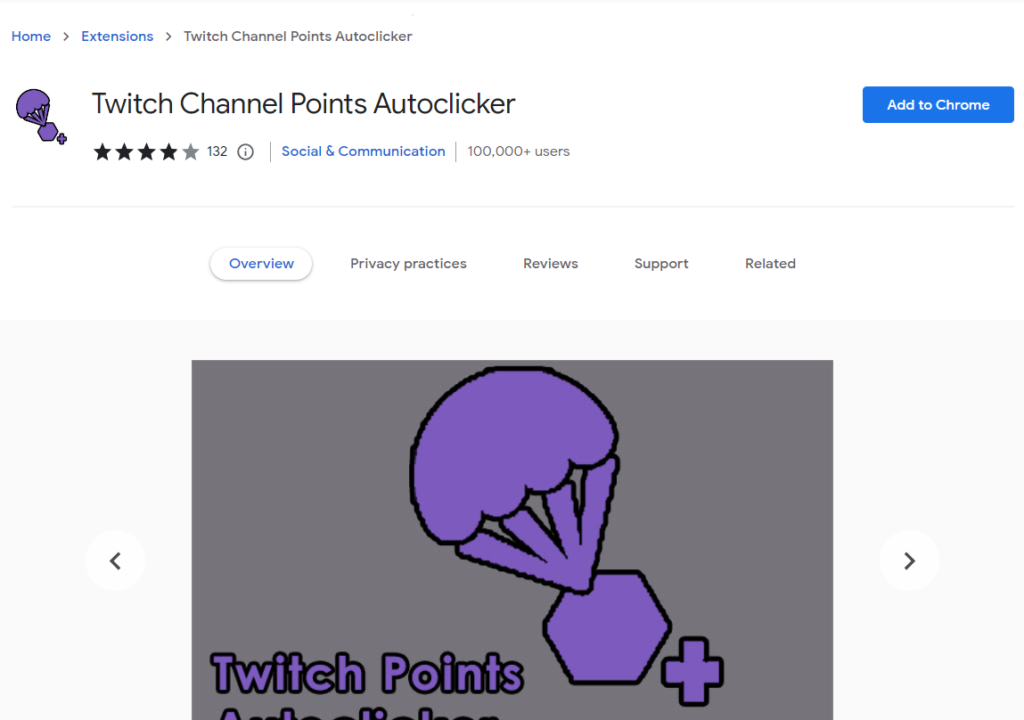 What is Twitch Channel Points Autoclicker?
Twitch channel points Autoclicker is the Twitch Chrome extension that lets you focus on your favorite Twitch streams. It automatically claims channel points for the channel that you are currently watching.
Thus, if you wish to watch your favorite streams in peace, install the Twitch Channel Points Autoclicker Chrome extension.
Features:
Watch favorite streams without disruptions
Automatically claims channel points
Lite version available
Compatible with other browsers
Also available on Github
Conclusion
Twitch is one of the most commonly used streaming platforms. With the best Chrome extensions for Twitch, you can enhance and improve your Twitch experience in the browser.
You can download favorite clips, stream in desired formats, organize and run giveaways and even customize chat with the Chrome extensions. Thus, choose and install these Chrome extensions to tailor your Twitch experience.