As we spend more and more of our lives online, it's important to protect our online privacy and security. One way to do this is by using a VPN, which encrypts our internet connection and hides our IP address from prying eyes. While there are many VPNs available, not all of them are free or easy to use. In this article, we will discuss some of the best free VPN extensions for Chrome.
What is a VPN?
Data and information security are necessary aspects of today's online world. Virtual Private Networks are the technology to protect your data and information exchange from malicious attacks.
VPN networks allow the establishment of a secure connection when using public networks. It creates a layer of protection over your internet identity and prevents malicious attacks while you exchange your data with other applications over a network.
How does a VPN Protect your Data?
A virtual private network hides your IP address and creates a disguise of your network identity while you surf the internet. The internet service provider is not able to see your browsing history and information exchange.
Thus, you can safely transform your data between applications over a public network. VPN encrypts your connection in real-time. It ensures that even if any malicious attacks get access to the secure connection, the data captured will be useless for it.
Why do You Need a VPN for Your Browser?
Your internet service provider (ISP) is responsible for establishing a connection over the network. The internet service provider tracks your browsing history and logs whatever you browse through. You can avoid this data logging by using a VPN.
Cyber attacks are one of the threats that internet service providers are always prone to. It can lead to huge data breaches and huge losses. In some cases, some crucial information may get logged and become threat prone. VPN helps in protecting this information from attacks and stealing.
With VPN, you can securely connect to the public network without letting your browsing history and information be shared with third-party apps and other advertising agencies. Besides these benefits, VPNs offer many other benefits including the following:
Safe Data Transfer: Data transfer is a prominent part of online transactions and work. Your work may require accessing necessary files and folders from a secured network. Using VPN to access these files without the risk of losing them to malicious attacks. The encryption methods of VPN secure data transfer.
Disguise Your Network Identity: VPN network disguises your IP address while browsing over the internet. The location data, browsing history, etc., are all covered by VPN. Your behavior over the network remains secured and hidden from third-party apps or other advertising agencies.
Encryption Methods: VPN encryption methods are best for creating a secure transfer of information over the internet. The information is encrypted in real-time by using robust encryption methods. Thus, the encrypted data is hard to decrypt. Access to other content: various forms of content are not available in every region. Regional content is available in the geographical areas of their origin. Using VPN, you can access content created in other geographical areas. VPN location spoofing allows you to change your location and access other regional areas' content.
How to Select a VPN Provider?
VPN has so many benefits along with so many providers in the market. With so many options, it may be difficult to select one VPN for your business requirements and needs.
Here are some of the factors or guidelines to choose one VPN :
Switch Off Connection: VPN is for secure transfer without a data breach. It should automatically get disconnected at the time of interruption. A good VPN connection terminates your connection with an interruption in internet connectivity. Encrypting IP address: a VPN secures your connection by hiding your IP address. A good VPN connection should effectively encrypt your IP address and browsing history from the internet service provider. It lets you secure your data transfer and activity over a public network.
Two-Factor Authentication: A strong and secure VPN connection effectively secures access by providing a two-factor authentication system. Two-factor authentication ensures that only authorized persons can access the secure network for data transfer. It prevents third-party attacks on your secured network.
Protocol Encryption: VPN hides your browsing history from the internet service provider. To achieve this, it must encrypt all the cookies that are stored while browsing the internet. Cookie encryption helps in preventing unwanted access to your personal information and internet activities.
Speed: Connection speed is a factor you should consider while choosing a VPN provider. In general, a VPN slows down your internet speed because data encryption happens in real-time. A slow connecting VPN will frustrate the user while working over the public network. VPN providers provide a reliable internet speed for fast data transfer and surfing. Choose VPN providers that use fast VPN protocols for data encryption and delivery.
No Logs Policy: VPNs are helpful in secure data transfer and online work by not storing any user information. Vpn providers should guarantee a no-log policy for the user data. Many VPN providers use ram-based servers which wipe out all the data upon connection termination.
Ease of Setup and Use: If you have to access a secured network daily, an easy-to-use VPN is a must. Choose a VPN that does not require a complex procedure for setup and use daily. It ensures that your work goes smoothly without the hassle of configuring the VPN daily. A user-friendly interface is a plus while working with a VPN. Customer support: customer support is always an added advantage for every software or product you buy. Customer support helps in solving issues that you face while using the VPN. Technically proficient customer support can help you solve your issues quickly and reliably.
Best Free VPN Extensions For Chrome
Chrome is one of the most popular and used internet browsers in the world. Thus, several best free VPN extensions for Chrome can be installed and used for free.
Here are some of the best free VPN extensions for chrome:
#1 Nord VPN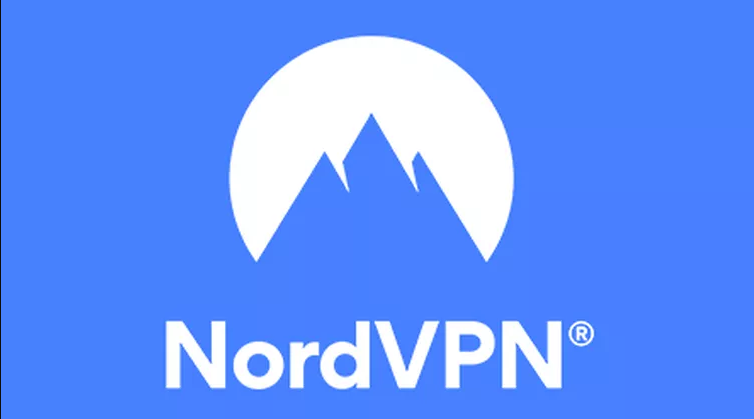 Nord VPN is one of the best VPN extensions for Google Chrome. Its advanced security features, high-speed connectivity, and unlimited monthly data make it #1 on the list of best VPN extensions for Chrome. The extension for Google Chrome is lightweight and easy to use.
Why use Nord VPN?
It provides you with the following features:
Lightweight Browser Extension
Reliable Kill-Switch functionality
Fast-speed internet all the times
Ideal VPN for Streaming
Blocks Web Trackers for Data Security
Nord VPN's Highlight Feature
The kill switch feature of Nord VPN makes it one of the best Chrome extension VPNs. The feature ensures no data leak and secure data transfer. The threat protection features keep you safe from unwanted malicious attacks.
Pricing
Nord VPN offers a 7-day free trial and paid programs. The 7-day free trial provides you with a 30-day money-back guarantee.
The paid plan involves a monthly plan starting at $12.99, a yearly plan starting at $4.99/month, and a two-year plan starting at $3.49/month. Every paid plan has divided packages based on the features offered in them.
#2 Hotspot Shield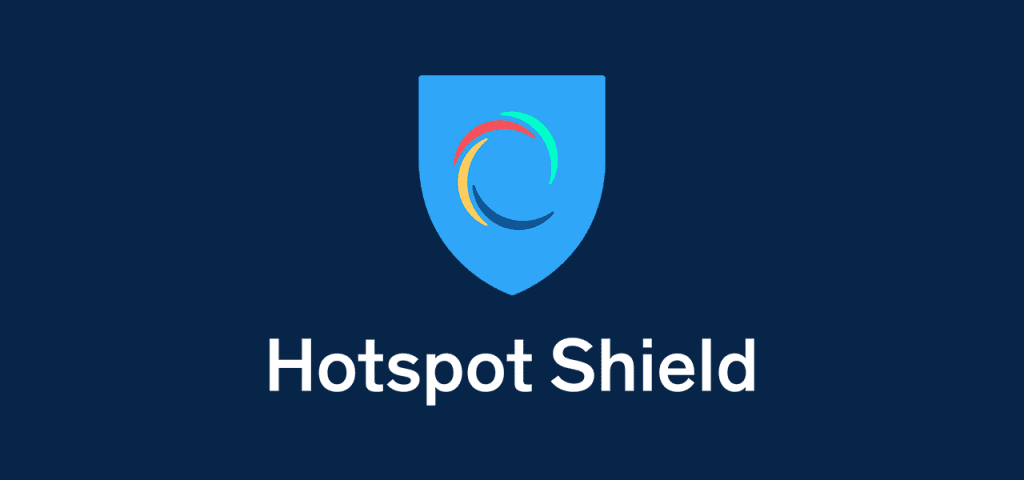 Hotspot Shield VPN is a powerful and best free VPN extension for Chrome. It provides an array of security and protection features that makes it more than just a VPN. It offers numerous servers around the world and provides location spoofing.
Thus, you can easily browse without getting your location exposed or attacked by attackers. The blazing-fast servers of Hotspot Shield VPN enhance the gaming and streaming experience through a VPN.
Why use Hotspot Shield VPN?
Along with high-speed connectivity, hotspot shield VPN offers the following features:
Plethora of Servers
High-Speed Connectivity
Hefty Services Bundle
Location Spoofing
Use of P2P file sharing and BitTorrent on the Network
Hotspot Shield VPN's Highlight Feature
The highlight feature of hotspot shield VPN is the high speed of connection it offers with 500+ servers all around the world. With high-speed connectivity, you can work, stream or surf over the network without any interruptions. Thus, hotspot shield VPN is one of the best free VPN extensions for Chrome.
Pricing
Hotspot Shield offers a free tier subscription with 500Mb of bandwidth per day. With the free tier of subscription, you can only use US VPN servers.
The paid subscription, called the premium subscription starts from $12.99 per month and offers an extensive set of features. With a premium subscription, you can even use 5 connections simultaneously to Hotspot Shield servers without any data limit.
#3 Windscribe VPN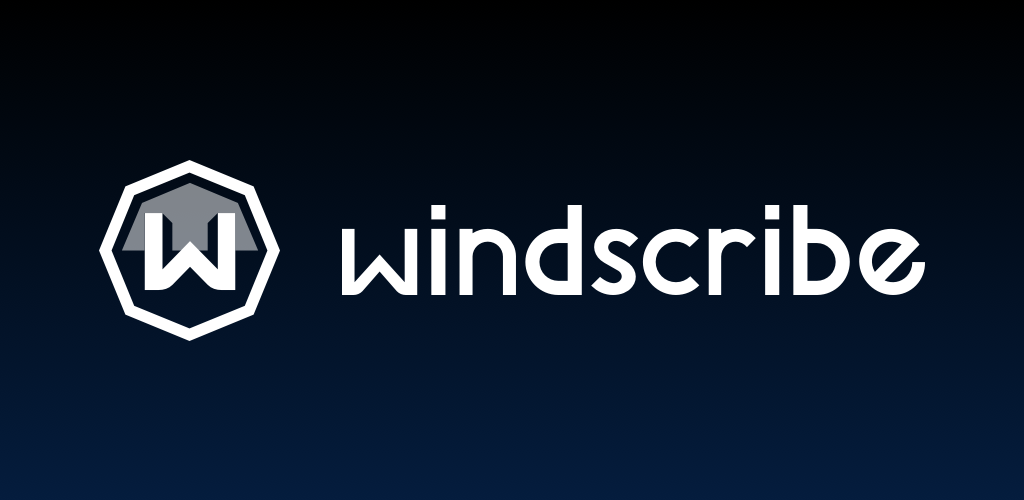 Windscribe VPN is one of the most popular VPN Chrome extensions. It provides unlimited connections and is great for streaming services like Netflix. You can easily stream your favorite shows from either the same or different geographical areas. The Windscribe VPN also supports torrenting and prevents DNS leaks. Thus, it is a great VPN extension for Chrome.
Why use Windscribe VPN?
Windscribe VPN provides a free subscription with a lot of features as compared to other VPN free versions. Some of the notable features provided by Windscribe VPN are as follows:
Windscribe Firewall Feature
No DNS leaks
Ideal for Streaming Sites
No Limit on Connections
High-Quality, Robust, and Secure Encryption
Pricing
Windscribe offers an unlimited free version. With the free version, you receive 2 GB of data per month. With the free version, if you share your email id with Windscribe, you get 10 GB of data per month. The free version restricts the server to the US, Germany, Norway, Russia, Canada, France, hong kong, turkey, and the UK.
The paid version of Windscribe VPN starts at $9 for a one-month plan. It also offers a yearly plan and a build plan option according to your requirements.
#4 Tunnelbear VPN
Tunnelbear is one of the best free VPN extensions for Chrome with limited features in the trial version. It encrypts the internet connection and keeps your internet activity hidden from attacks and threats.
It also unblocks popular websites that are blocked due to local censorship. Thus, you can stream by changing your location with the help of tunnel bear.
Why use Tunnelbear VPN?
Tunnelbear VPN is one of the easiest VPNs that you can use. It offers the following features to its consumers:
Bypass Internet censorship
Easy to use for both individuals and teams
Strong encryption mechanisms
Kill Switch Feature called Vigilant Bear
It Doesn't log or monitor activities online
Pricing
Tunnelbear VPN offers a limited free version with limited features.
The paid version of Tunnelbear VPN is also not so pricey. The paid plans start at $4.99/month for one year. It also has two-year and three-year plans. You can choose the plan that suits your budget and requirements.
#5 Express VPN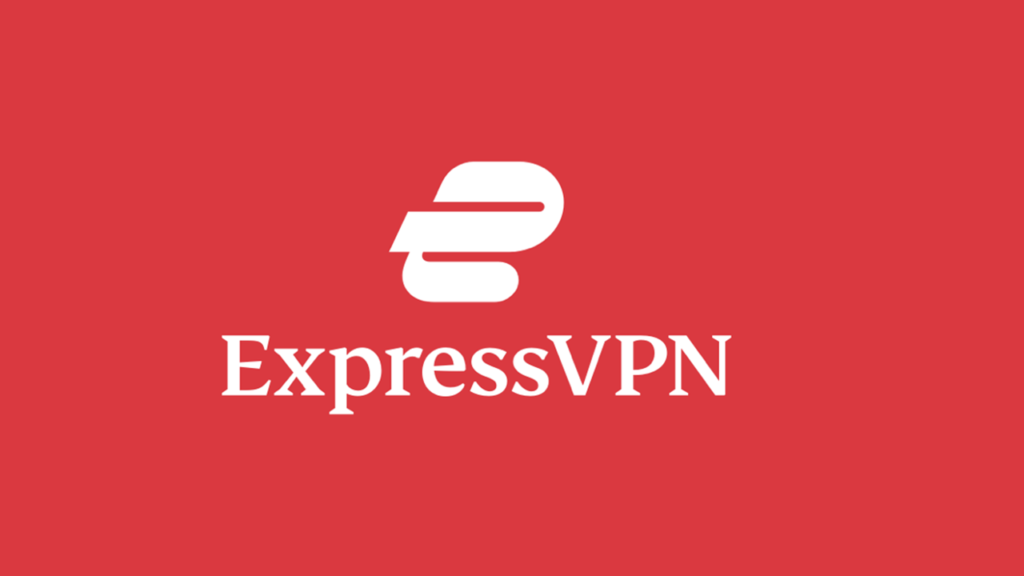 ExpressVPN is a highly reliable and secure VPN extension. It is one of the fastest VPNs available in the market. It offers a reliable Google Chrome extension as well. With great speed, you can easily stream, torrent, and play games over the network.
ExpressVPN has a great network of servers around the world. It makes it easier for you to access the geographical content of your choice without any hurdles. The verified, strict no-log policy of express VPN ensures maximum data security over the network.
Why use Express VPN?
ExpressVPN is a lightning-fast VPN extension that provides with following numerous advantages:
Has more than 3000+ servers around the world
Works with the majority of streaming services including Netflix, HBO, Etc.
Supports 5 simultaneous device connections
Uses AES 256-bit encryption to secure data
Has an automatic kill switch
Pricing
It provides a 30-day free trial and is compatible with the majority of devices.
The paid version is slightly more expensive than the other VPN options on the list. ExpressVPN runs offers on purchasing subscriptions around the year. Thus, you can easily buy it with a discount. The paid version of ExpressVPN starts from around $6.67/month.
It is the cheapest plan you can get. It also offers a 30-day money-back guarantee. Thus, if you are not satisfied with the performance, you can get your money back.
How to install a VPN Extension on Google Chrome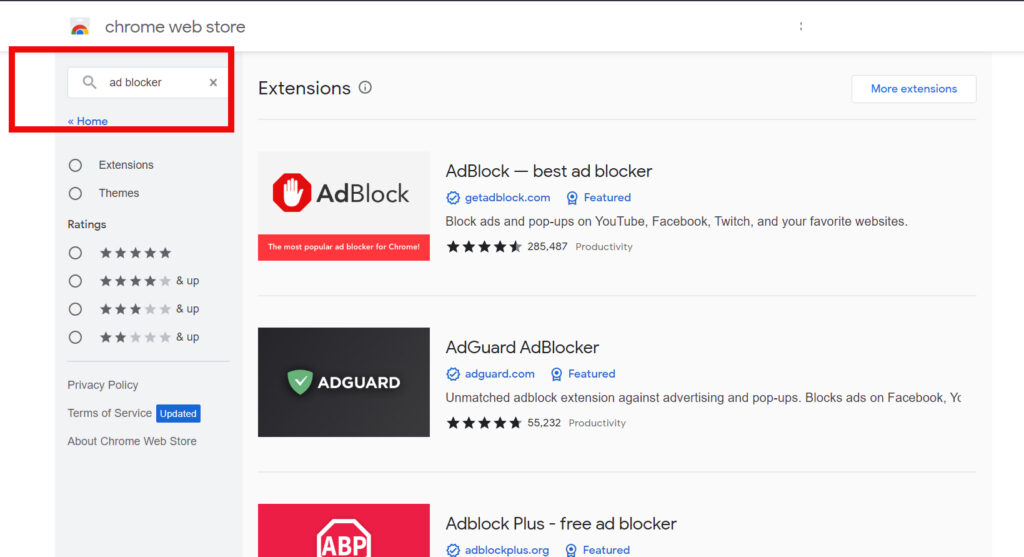 There are several best VPN chrome extensions for free. You can install a VPN extension from the google chrome extension web store. To install a VPN extension on google chrome, all you need is:
An updated version of the Google Chrome browser
A subscription (either paid or free) to the VPN service
A desktop application of the VPN service, if required.
Steps to install a VPN extension on Google Chrome
Open the VPN listing in the Google Chrome web store. For example, if you want to install Nord VPN, search for Nord VPN in the web store.
Click on the add to chrome button.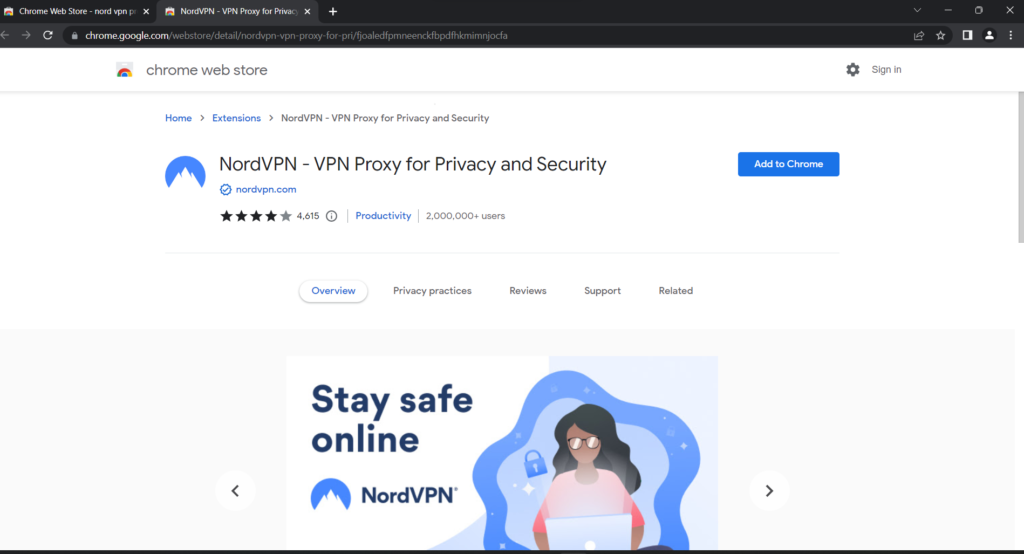 Click on the add extensions button to allow the necessary permissions required for the extension.
Once installation is complete, the add to chrome button will change to remove from chrome.
The installed extension icon will be visible in the top right corner of the google chrome search bar.
If you don't understand the steps you can check our detailed article on how to add a Chrome extension. That helps you to add a Chrome extension manually or automatically from the Chrome web store. VPN extensions can be used for different purposes by different people. Some use it for secure data transfer while others for streaming content they like.
Important Tips to follow while using VPN
VPN allows secure access and transfer of data over the network. If you want to send or receive safe data, use a VPN service to prevent data theft and loss.
VPN allows access to streaming content from other geographical areas. If you want to enjoy the content that is not accessible in your area, you can then use the location spoofing feature of a VPN to change your location and stream content.
The majority of VPN services provide high-speed internet. Thus, play games, transfer files, or stream movies using high-speed internet.
Conclusion
VPN extensions are useful tools for browsing and surfing over the network without the risk of data loss and theft. VPN allows you to disguise your identity over the public network and does not monitor your online activities.
There are numerous best VPN extensions for Google Chrome that you can install and use for your requirements. NordVPN and ExpressVPN are one of the best Chrome extensions for VPNs available in the market.
Popular FAQs on Free VPN Chrome extensions
Is there a free VPN extension for Chrome?
Yes,
there are several free VPN extensions available for Chrome in the Chrome Web Store. However, not all of them offer the same level of security and privacy, and some may have limitations on data usage or connection speed.
Are free VPN extensions safe?
It depends on the VPN extension. While some free VPN extensions are safe to use, others may collect your data or inject ads into your browsing experience. Before using a free VPN extension, be sure to research its privacy policy and user reviews to determine if it is safe.
Which VPN is best for Chrome?
There are many VPNs available for Chrome, and the best one for you depends on your specific needs. Some popular options include Express VPN, NordVPN, and CyberGhost VPN. Be sure to research the features and pricing of each VPN to find the best fit for you.
Which free VPN is safe for pc?
Again, it depends on the VPN. Some safe and popular free VPNs for pc include Proton VPN, Windscribe, and Hotspot Shield. However, keep in mind that free VPNs often come with limitations on data usage or connection speed.
What is the safest free VPN?
It is difficult to determine the safest free VPNs different VPNs have different privacy policies, logging practices, and features. However, some safe and popular free VPNs include ProtonVPN, Windscribe, and hotspot shield.
Can Chrome track me with VPN?
If you are using a VPN on Chrome, your browsing activity is encrypted and your IP address is hidden, which makes it difficult for Chrome or any other third party to track your activity. However, it is important to choose a trustworthy VPN provider to ensure your privacy.
What are the 3 types of VPNs?
The three types of VPN are
remote access VPN,
site-to-site VPN, and extranet VPN. Remote access VPN allows individual users to access a private network securely from a remote location. Site-to-site VPN connects two or more networks together over the internet. Extranet VPN allows external partners to access a company's network securely.